Recreation user knowledge, support and engagement in French MPAs: Are there reverse side-effects of the French soft regulation and management approach?
Connaissance des usagers, soutien et engagement dans les Aires Marines Protégées françaises : peut-on parler de conséquences inattendues de l'approche de gestion à la française ?
Marine and coastal recreation represents a common and increasing range of activities in marine protected areas (MPA). Understanding and factoring in the views of recreational stakeholders is considered an important component of effective MPA management. The diversity of recreation users and history of management can present stakeholder engagement challenges. This paper presents the findings of a French MPA recreation user survey involving 1000 respondents across 7 recreation activity types regarding knowledge of MPAs, the perceived importance of MPAs to their recreation activity, and support for additional regulation and engagement associated with French MPAs. Respondents generally had little or no knowledge about the MPA existence and regulations in locations they accessed for recreation. A low perceived importance of MPAs as a place to recreate and low interest in engagement was also apparent. However, there was significant support for additional MPA regulation. The results demonstrate the complexity of engaging with recreation users in a country where MPAs are a relatively recent concept superimposed on well-established and historically settled human uses. It seems that soft regulation of French MPAs to avoid impinging on recreation access and public liberties is associated with an overall low awareness of MPAs. This situation questions the ability of managers to engage effectively with recreation stakeholders and indicates a need to make French MPA more visible and more understandable for users.
Fichier principal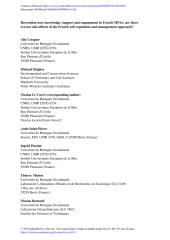 S0308597X1830160X.pdf (448.9 Ko)
Télécharger le fichier
Origin : Files produced by the author(s)