Exploitation d'une base lexicale dans le cadre de la conception de l'ENPA Innovalangues
Operating a lexical database in the framework of the Innovalangues language learning platform The Innovalangues project aims to design a personalized digital environment for language learning. In this context, several modules such as serious games or exercise generators need a lexical database. It is also interesting to provide solutions for learners to manage their own lexicons. To prevent each one to develop its own lexical database, it quickly appears essential to develop one common lexical database that can be used for modules (machines) and learners (humans). After an analysis around usage scenarios, we set up a multilingual lexical database architecture. We then built a working prototype that integrates with the environment and allows a learner to look up existing lexical resources and create its own lexicon. The LexInnova prototype uses the Jibiki platform for managing heterogeneous lexical resources via its REST application programming interface.
Le projet Innovalangues a pour but la conception d'un environnement numérique personnalisé d'apprentissage des langues (ENPA). Dans ce cadre, plusieurs modules tels des jeux sérieux ou des générateurs d'exercices ont besoin d'une base lexicale. Il est intéressant également de donner la possibilité aux apprenants de gérer leurs propres lexiques. Pour éviter que chacun ne développe sa propre base lexicale, il apparaît rapidement indispensable de développer une seule base lexicale commune qui puisse servir aux modules (machines) comme aux apprenants (humains). Après une analyse des besoins autour de scénarios d'utilisation, nous proposons une architecture de base lexicale multilingue. Nous avons ensuite réalisé un prototype fonctionnel qui s'intègre à l'ENPA et permet à un apprenant de consulter des ressources lexicales existantes et de créer son propre lexique. Le prototype LexInnova utilise la plate-forme Jibiki de gestion de ressources lexicales hétérogènes à distance via son interface de programmation (API) REST.
Fichier principal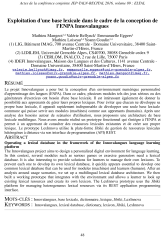 Mangeot_Bellynck_et al (2016a)-EBLCI.pdf (1.19 Mo)
Télécharger le fichier
Origin : Explicit agreement for this submission