Occupy the places – Occupy the inhabitants. Ethnography of two institutional experimentations. Brussels, Nantes.
Occuper les lieux – Occuper les habitants. Ethnographie de deux expérimentations institutionnelles. Bruxelles, Nantes.
This thesis challenges the hypothesis of the "temporary" and of "experimentation" as promises of the urban fabric renewal, through a cross-ethnography of two participatory devices. The study proposes a three-fold description of these experiences. The first analyses the projects from the point of view of their results, taking into account the objectives and ambitions attributed by the stakeholders, describing their genealogies, stakes and justifications. The second broadens the observation to the places built, to the way inhabitants catch it, to their use within the city and thus, to social, urban and political questions raised. The third tracks the trajectory and the scope of the experimentations from the public stakeholders' practices, and questions more specifically their potential in terms of institutional transformation. The expression Occupy the places – Occupy the inhabitants questions the participation of inhabitants' evolutions and the tactical urbanism' development regarding the control of space, time and attention through urban transformation. With the idea of institutional experimentation, the aim is to analyse experimentation as a new norm between discourses and practices, in particular the risks and promises raised by experimental urbanism. Between involvment and detachment, this cross-investigation is also a way to explore research itself, its methods, its role among society and the use of its productions.
Ce travail met à l'épreuve l'hypothèse du "temporaire" et de "l'expérimentation" comme promesses de renouvellement de la fabrique urbaine, à travers l'ethnographie croisée de deux dispositifs participatifs. La thèse propose une description de ces expériences en trois temps. Le premier analyse ces projets du point de vue de leurs résultats, prenant au sérieux les objectifs et ambitions que les acteurs leurs attribuent, décrivant leurs généalogies, enjeux et justifications. Le deuxième élargit l'observation aux lieux fabriqués, à leur saisissement par les habitants, à leur carrière d'usage dans la ville et donc aux questions sociales, urbaines et politiques soulevées. Le troisième suit à la trace la trajectoire et la portée de ces expérimentations du côté des acteurs publics et interroge plus particulièrement leur potentiel de transformation institutionnelle. L'expression Occuper les lieux – Occuper les habitants permet de questionner les évolutions de la participation habitante et le développement de l'urbanisme transitoire au prisme des enjeux de la maîtrise de l'espace, du temps et de l'attention dans la transformation urbaine. À travers l'idée d'expérimentation institutionnelle, c'est l'expérimentation comme nouvelle norme entre discours et pratiques qui est analysée, et en particulier les risques et promesses de l'urbanisme d'expérimentation. Entre engagement et distanciation, cette enquête croisée est aussi une manière d'explorer la recherche elle-même, ses méthodes, son rôle parmi les acteurs et l'usage de ses productions.
Fichier principal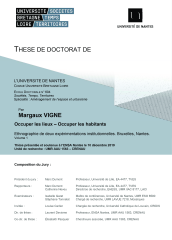 These-volume1-Margaux Vigne 2019.pdf (175.78 Mo)
Télécharger le fichier
These-volume2-Margaux-Vigne 2019.pdf (124.05 Mo)
Télécharger le fichier
Origin : Files produced by the author(s)
Origin : Files produced by the author(s)