Plant-based red colouration of shell beads 15,000 years ago in Kebara Cave, Mount Carmel (Israel)
Decorating the living space, objects, body and clothes with colour is a widespread human practice. While the habitual use of red mineral pigments (such as iron-oxide, e.g., ochre) by anatomically modern humans started in Africa about 140,000 years ago, the earliest documentation of the use of organic plant or animal-based red pigments is known from only 6,000 years ago. Here, we report the oldest reliable evidence of organic red pigment use 15,000 years ago by the first sedentary hunter-gatherers in the Levant. SEM-EDS and Raman Spectroscopy analyses of 10 red-stained shell beads enabled us to detect and describe the use of a colourant made of Rubiaceae plants roots ( Rubia spp., Asperula spp., Gallium spp.) to colour personal adornments from the Early Natufian of Kebara cave, Mount Carmel, Israel. This adds a previously unknown behavioural aspect of Natufian societies, namely a well-established tradition of non-dietary plant processing at the beginning of the sedentary lifestyle. Through a combined multidisciplinary approach, our study broadens the perspectives on the ornamental practices and the chaînes opératoires of pigmenting materials during a crucial period in human history.
Décorer l'espace de vie, les objets, le corps et les vêtements avec de la couleur est une pratique humaine très répandue. Alors que l'utilisation habituelle de pigments minéraux rouges (tels que l'oxyde de fer, par exemple l'ocre) par les humains anatomiquement modernes a commencé en Afrique il y a environ 140 000 ans, la plus ancienne preuve de l'utilisation de pigments rouges organiques à base de plantes ou d'animaux date de seulement 6 000 ans. Nous rapportons ici la plus ancienne preuve fiable de l'utilisation de pigments rouges organiques il y a 15 000 ans par les premiers chasseurs-cueilleurs sédentaires du Levant. Les analyses SEM-EDS et la spectroscopie Raman de 10 perles de coquillage colorées en rouge nous ont permis de détecter et de décrire l'utilisation d'un colorant composé de racines de plantes Rubiaceae (Rubia spp., Asperula spp., Gallium spp.) pour colorer des parures du Natoufien ancien de la Grotte de Kebara, au Mont Carmel, Israël. Cette étude ajoute un aspect comportemental jusqu'alors inconnu des sociétés du Natoufien, à savoir une tradition bien établie de transformation non alimentaire des plantes au début du mode de vie sédentaire. Grâce à une approche multidisciplinaire combinée, notre étude élargit les perspectives sur les pratiques ornementales et les chaînes opératoires des matériaux de pigmentation pendant une période cruciale de l'histoire de l'humanité.
Fichier principal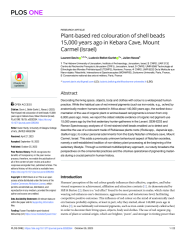 Davin et al. (2023) KEBARA.pdf (5.86 Mo)
Télécharger le fichier
Origin : Publisher files allowed on an open archive