Populations exposure to foodborne pollution in OHM(i) – literature review of these socio-ecosystems.
Exposition des populations à la pollution par voie alimentaire dans les OHM(i) – revue de littérature de ces socio-écosystèmes
Food plays a fundamental role in maintaining human health. It also makes it possible to reveal an identity character, specific to each socio-ecosystem studied in the Human-Environment Observatories (OHM), especially if it comes from agricultural, hunting, fishing, or traditional livestock activities. Food can also carry contamination and contribute to the exposure of populations to pollutants. At the territorial level, this can create dilemmas for decision-makers between food security and emerging health risks. In the different observatories, food practices and sources of contamination are varied. The question is: "Do the dietary practices of certain territories generate situations of exposure to pollutants through food that are stronger than in other territories? First, we are reviewing the knowledge already acquired on the state of contamination (food, environment) in OHM(i) and the possible link with the health of their population. For the OHMi Estarreja, the chemical discharges of the industrial complex into the environment (soil, water, etc.) and their transfer to the food chain level, as well as the assessment of the health risk (through biomarkers), have already been addressed through various studies. For the other OHM(i), Nunavik, Oyapock, Littoral-Caraïbe, Tessékéré, studies within the framework of a multi-material and multi-contaminant approach must be carried out to better characterize the dispersion of contaminants in each OHM. This literature review makes it possible to highlight the established knowledge and the missing elements. The results will make it possible to target the matrices (environmental and food) to be analyzed, and the sampling areas to be chosen to assess the exposure of the populations to pollution in different OHM(i).
L'alimentation occupe une place fondamentale dans le maintien de la santé des individus. Elle permet par ailleurs de révéler un caractère identitaire, propre à chaque socio-écosystème étudié dans les Observatoires Hommes-Milieux (OHM), notamment si elle provient des activités agricoles, de chasse, de pêche ou d'élevage traditionnel. Les aliments peuvent aussi être porteurs de contamination et participer à l'exposition des populations à des polluants. À l'échelle territoriale, cela peut engendrer, pour les décideurs, des dilemmes entre la sécurité alimentaire et risques sanitaires émergents. Dans les différents observatoires, les pratiques alimentaires et les sources de contaminations sont variées. La question est : « Est-ce que les pratiques alimentaires de certains territoires engendrent-elles des situations d'exposition à des polluants par voie alimentaire plus fortes que sur d'autres territoires ? » Dans un premier temps, nous réalisons une revue des connaissances déjà acquises sur l'état de contamination (aliments, environnement) dans les OHM(i) et le lien possible avec la santé de leur population. Pour l'OHMi Estarreja, les rejets chimiques du complexe industriel dans l'environnement (sol, eau, etc..) et leur transfert au niveau de la chaine alimentaire ainsi que l'évaluation du risque sanitaire (à travers des biomarqueurs) étaient déjà abordés à travers diverses études. Pour les autres OHM(i), Nunavik, Oyapock, Littoral-Caraïbe, Tessékéré, des études dans le cadre d'une approche multi-matricielle et pluri-contaminants doivent être faites afin de mieux caractériser la dispersion des contaminants dans chaque OHM. Cet état des lieux des données permet de mettre en évidence les connaissances établies et les éléments manquants. Les résultats permettront de cibler les matrices (environnementales et alimentaires) à analyser, et les zones de prélèvements à choisir en vue d'évaluer l'exposition des populations des différents OHM(i) à des pollutions.
Fichier principal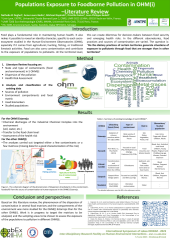 PosterTessEstaNunOyaLC_El_Deghel_2023.pdf (1.34 Mo)
Télécharger le fichier
Origin : Files produced by the author(s)