La couleur de la chair. Race, langue et linguistique en France
This paper examines the relationship between French linguistics and the notion of race in its epistemological definition, its theoretical functioning and the conception of its object. After recalling the history of the close links between race and linguistics in France in the 19th century and up to the 1920s, it is explained how race then left the conception of the discipline for political and ethical reasons, and was constructed as an object of study within the strict framework of bodies of racist and anti-racist discourse throughout the 20th century. We then show, based on the study of descriptors of the pinkish-beige color of human skin in the fields of make-up and underwear (words such as flesh, skin, natural), that the dimension of race is inscribed in the language in the form of an index of visible difference, testifying to an enunciation situated as white. We conclude that this dimension constitutes a necessary object for a linguistic discourse analysis which pays attention to the realities experienced by individuals in all aspects of their existence.
Cet article porte sur les rapports que la linguistique française entretient avec la notion de race dans sa définition épistémologique, ses fonctionnements théoriques et la conception de son objet. Après avoir rappelé l'histoire des liens étroits entre race et linguistique en France au XIX e siècle et jusqu'aux années 1920, on explique comment la race est ensuite sortie de la conception de la discipline pour des raisons politiques et éthiques, et a été construite comme objet d'étude dans le cadre strict de corpus de discours racistes et antiracistes pendant l'ensemble du XX e siècle. On montre ensuite à partir de l'étude des descripteurs de la couleur beige rosé de la peau humaine dans les domaines du maquillage et des sous-vêtements (des mots comme chair, peau, naturel), que la dimension de la race est inscrite dans la langue sous la forme d'un indice de différence visible, témoignant d'une énonciation située comme blanche. On en conclut que cette dimension constitue un objet nécessaire pour une analyse linguistique du discours attentive aux réalités éprouvées par les individus dans tous les aspects de leur existence.
Fichier principal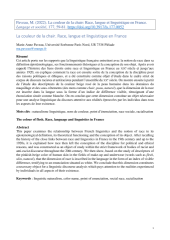 Paveau-Def_L&S177.pdf (330.43 Ko)
Télécharger le fichier
Origin : Files produced by the author(s)