Folksonomies of air quality.
Folksonomies de la qualité de l'air
The paper accounts for a classification experiment of ambient air particles measurement's sessions by people to whom was lent a microsensor, in the "checkbox" project organized by sociologists and experts of a certified association of air quality surveillance (Aasqa). It focuses on the diversity of these labels - or folksonomies - posted on the database along with data, by 70 people, whether they follow a standard codification rule or invent them along the way. The sociologists of Checkbox are able to underline the successful compromise achieved between lay metrological imagination and expertise normalizing air quality monitoring.
L'article relate une expérience de classification de sessions de mesure de la pollution particulaire autour d'eux, par des citoyens à qui on avait confié un microcapteur, dans le cadre d'une expérimentation appelée Checkbox associant des sociologues et une Association agréée de surveillance de la qualité de l'air (Aasqa). Il examine la diversité des labels ou folksonomies renvoyées sur une base de données, en parallèle à leurs mesures de l'air, par 70 personnes, selon qu'elles se conforment à une codification proposée ex ante, ou qu'elles inventent les termes de ces labels sur le tas. On souligne ainsi les opérations de cadrage entre l'imagination métrologique des participants et l'expertise normalisante de la surveillance de la qualité de l'air.
Fichier principal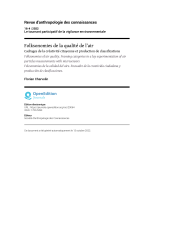 CharvolinRAC2022.pdf (464.98 Ko)
Télécharger le fichier
Origin : Publisher files allowed on an open archive