The crisis of the scientific mind : an investigation, a tragedy and a collective redistribution of roles
La crisis de la mente científica : una investigación, una tragedia y una redistribución colectiva de roles
La crise de l'esprit scientifique : une enquête, une tragédie, une redistribution collective des rôles
The process of scientific research resembles that of an investigator : observations, hypotheses, verifications, conclusions. In the case of ecological devastation, our community describes the state and dynamics of the contemporary world, tries to understand the causes in order to better propose means of action. But as is often the case for investigators, the possibility of their own responsibility is not often considered. For this, it is necessary to undertake a reflexive observation of one's own functioning, and of the relationships that one weaves with the dynamics of the world. We report on the setting up of a possible instrument for this reflexivity, and how collective discussion makes it possible to find ways for scientists, at all organisational levels, to exercise their environmental responsibility.
El proceso de investigación científica se asemeja al de un detective : observaciones, hipótesis, comprobaciones, conclusiones. En el caso de la devastación ecológica, nuestra comunidad describe el estado y la dinámica del mundo contemporáneo, intenta comprender las causas para proponer los mejores medios de acción. Pero, como suele ocurrir con los detectives, no se suele considerar la posibilidad de la propia responsabilidad. Para ello, es necesario emprender una observación reflexiva del propio funcionamiento, y de las relaciones que uno teje con la dinámica del mundo. Informamos sobre la puesta en marcha de un posible instrumento para esta reflexividad, y sobre cómo el debate colectivo permite encontrar vías para que los científicos, a todos los niveles organizativos, ejerzan su responsabilidad medioambiental.
Le geste de la recherche scientifique ressemble à celui d'une enquêtrice : observations, hypothèses, vérifications, conclusions. En ce qui concerne les ravages écologiques, notre communauté décrit l'état et la dynamique du monde contemporain, tente d'en connaître les causes pour mieux proposer des moyens d'action. Mais, comme souvent pour l'enquêteur, la possibilité de sa propre responsabilité n'est pas souvent envisagée. Il est nécessaire pour cela d'entamer une observation réflexive de son propre fonctionnement, et des relations qu'on tisse avec la dynamique du monde. Nous relatons la mise en place d'un instrument possible de cette réflexivité, et comment la discussion collective permet de trouver des moyens pour des scientifiques, à tous niveaux organisationnels, d'exercer leur responsabilité environnementale.
Fichier principal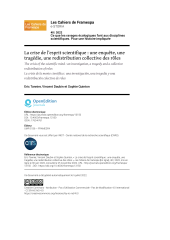 framespa-13150.pdf (375.12 Ko)
Télécharger le fichier
Origin : Publication funded by an institution