Venaille magnétique. Ecrire pour la bande, dans les contre-allées de la poésie
Franck Venaille was one of the leading authors and producers of the Nuits magnétiques between 1978 and 1993. He was also one of its emblematic voices. Drawing on all the programmes he produced for this radio programme, this article highlights the originality and coherence of his contribution to Nuits magnétiques. An examination of the corpus reveals two distinct phases: the first, up to 1981, when Franck Venaille, starting from the experience of live radio, questioned the boundaries between reality and fiction; the second, from 1984 onwards, when, making greater use of editing, he developed and braided together themes, places and figures that are also to be found at the forefront of his literary work. At the end of this listening journey, the idea emerges clearly that Venaille's radio writing, like that of the book, is part of the same quest for self-knowledge, for tension towards an intimate truth, but also for moral and physical healing. Radio also forged in him a sensitivity to voices, to the moiré sounds and speech, which, combined with his passion for opera and cinema, gradually led him to conceive his broadcasts as dramatic polyphonies in which he would be one of the main characters.
Franck Venaille fut l'un des auteurs et producteurs phares des Nuits magnétiques entre 1978 et 1993. Il en fut aussi l'une des voix emblématiques. S'appuyant sur l'ensemble des émissions qu'il produisit pour ce programme radiophonique, cet article met en évidence l'originalité et la cohérence de son apport aux Nuits magnétiques. L'examen du corpus révèle deux phases distinctes : la première, jusqu'en 1981, où Franck Venaille, partant de l'expérience du direct radiophonique, questionne les frontières entre réel et fiction ; la seconde, à partir de 1984, où, recourant davantage au montage, il développe et tresse ensemble des thèmes, des lieux et des figures que l'on retrouve également au premier plan de son œuvre littéraire. Au terme de ce parcours d'écoute se dégage avec évidence l'idée que l'écriture radiophonique de Venaille s'inscrit, comme celle pour le livre, dans une même quête de connaissance de soi, de tension vers une vérité intime, mais aussi de guérison morale et physique. La radio forge en outre chez lui une sensibilité aux voix, aux moirures des timbres et des parler, laquelle, jointe à sa passion de l'opéra et du cinéma, l'amène peu à peu à concevoir ses émissions comme des polyphonies dramatiques dont il serait l'un des principaux personnages.
Fichier principal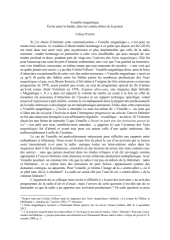 Pardo_Venaille magnétique_komodo_2021.pdf (450.35 Ko)
Télécharger le fichier
Origin : Files produced by the author(s)