Les ressources territoriales des îles de l'Iroise à l'épreuve du développement local
The article raises the question of the political management of the pressures generated by the dynamics of local development on the resources of the island territories of the Iroise Sea, the island of Ouessant, the Molène archipelago and the island of Sein. A field survey consisted in 55 semi-directive interviews with three audiences: activity promoters, elected officials and managers; 254 questionnaires, 116 of which were from inhabitants and 138 from tourists, provided quantitative information on the mobilization of territorial resources. For the most part, these come from the sea. They are of course fishery resources, but also landscape resources, and even more generally geographical resources, in the sense that island life, as a living environment, constitutes a factor of attractiveness, at least the driving force behind the creation of identity and, indeed, society. The resources required today in the context of local development are natural, social, spatial and financial resources. The pressures that are exerted on the territory are expressed in two main forms: the secondarization of the habitat and the availability of land in general, on the one hand; and competition over fishery resources, on the other. The key element identified on the territory concerning the political management of these resources is a difficulty of communalization, the organization of the actors with the aim of managing the resources collectively. The marine conservation organizations do not currently seem to be able to significantly influence the management of resources, but they represent a tool, possibly an under-exploited territorial resource, in favor of this process of communalization.
L'article pose la question de la gestion par le collectif des pressions engendrées par la dynamique de développement local sur les ressources des territoires insulaires de la mer d'Iroise, l'île d'Ouessant, l'archipel de Molène et l'île de Sein. Une enquête de terrain a permis de réaliser 55 entretiens semi-directifs auprès de trois publics: porteurs d'activités, élus, gestionnaires; 254 questionnaires, dont 116 auprès des habitants et 138 auprès de touristes, ont apporté des informations quantitatives sur la mobilisation des ressources territoriales. Pour l'essentiel, celles-ci viennent de la mer. Elles sont halieutiques certes, mais aussi paysagères, voire plus globalement géographiques, au sens où la vie insulaire constitue, en tant que cadre de vie, un facteur d'attractivité, pour le moins le moteur de la fabrique identitaire et de fait, sociétale. Les ressources sollicitées aujourd'hui dans le cadre du développement local sont à la fois des ressources naturelles, sociales, spatiales et financières. Les pressions qui s'exercent sur le territoire s'expriment sous deux formes principales: la secondarisation de l'habitat et la disponibilité foncière en général, d'une part; la concurrence sur les ressources halieutiques, d'autre part. L'élément clé identifié sur le territoire concernant la gestion de ces ressources, est une difficulté de communalisation c'est-à-dire d'organisation des acteurs dans le but de gérer les ressources collectivement. Les organismes de conservation du milieu marin ne semblent pas actuellement parvenir à infléchir significativement la gestion des ressources, mais ils représentent un outil, éventuellement une ressource territoriale sous-exploitée, en faveur de ce processus de communalisation.
Fichier principal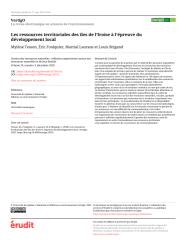 Tesson et al. 2020.pdf (639.59 Ko)
Télécharger le fichier
Origin : Publisher files allowed on an open archive