Quelle contre-révolution en Tunisie et en Égypte ? L'héritage du RCD et du PND dans les systèmes partisans et le secteur de l'économie informelle
The Constitutional Democratic Rally (CDR) in Tunisia and National Democratic Party (NDP) in Egypt dominated the political life of their respective countries for decades. Prior to the revolution, they formed both a space of competition for various elite-backed projects, and one of the main linkages between State and society. The crisis of both functions (reformist and clientelist) explains the failure of these organizations to survive in a context of political opening following the overthrow of the dictators. Their judicial disbanding has thus been an accelerator rather than a cause of disintegration. The internal struggle which in both cases opposes conservatives and reformers has resulted in the formulation of different projects (authoritarian restoration or step-by-step reform of the old regimes) competing on the electoral market. In addition, the lack of a clear ideological identity for both organizations accelerated the dispersion of many of their members, and their re-alignment according to functional or cultural cleavages. Nevertheless, the informal networks linked to the former parties have, with their restructuring, survived in the economical field.
Le Rassemblement constitutionnel démocratique (RCD) en Tunisie, et le Parti national démocratique (PND) en Égypte, ont dominé la vie politique de leurs pays respectifs durant plusieurs décennies. À la veille de la révolution, ces deux partis constituaient à la fois l'espace dans lequel s'affrontaient les projets de société concurrents portés par les élites, et l'un des principaux liens entre le régime et la société. La crise de ces deux fonctions (réformatrice et clientéliste) explique l'inaptitude de ces deux formations à survivre dans le contexte d'ouverture politique consécutif à la chute des dictateurs. Dans cette perspective, leur dissolution par la justice a probablement accéléré leur dislocation plutôt qu'elle ne l'a provoquée. En effet, la lutte intestine opposant – au sein de chacune de ces deux formations – conservateurs et réformateurs s'est traduite dans ce nouveau contexte par la mise en concurrence sur le marché électoral de différents projets de restauration autoritaire ou de réformes graduelles du régime. Par ailleurs, l'absence de ligne idéologique claire manifestée par ces deux partis a favorisé la dispersion d'une partie de leur clientèle et leur réalignement sur des lignes de clivage fonctionnelles ou culturelles. Les réseaux informels liés aux anciens partis ont néanmoins su survivre dans le champ économique, au prix d'une recomposition.
Fichier principal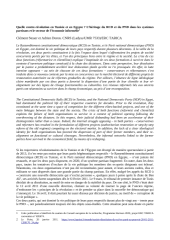 Contre-Révolution_Tunisie_Egypte.pdf (121.15 Ko)
Télécharger le fichier
Origin : Files produced by the author(s)