Une « république des sentiments blessés » ? Censure(s), communautés vulnérables et guerres culturelles en Inde
What is the meaning, in the Indian context, of stating that words or works of art injure or "hurt feelings" ? This paper examines the specificity of the entanglement of the rhetoric of censorship with the language and performance of emotions in India today, by looking closely at the discourses mobilized around the controversy surrounding the painter M. F. Husain, and the mobilization of the Delhi-based collective of artists Sahmat. It aims to understand how agency can be derived from injury, and to analyze how "feelings of pain" are used by and distributed across both groups who mobilize in favor of or to counter censorship.
Qu'est-ce que cela signifie, dans le contexte indien, de dire que des mots ou des œuvres blessent ou « font mal » ? Cet article étudie l'enchevêtrement spécifique entre rhétorique de la censure, d'une part, et langage et performance des émotions de l'autre. À travers le cas du peintre M. F. Husain et de la mobilisation du collectif d'artistes Sahmat, il s'agit de comprendre la manière dont la blessure ou la douleur sont utilisées et distribuées dans le champ des discours et des mobilisations en faveur des pratiques de régulation artistique et culturelle, donc de la censure, mais aussi dans le champ des mobilisations et des discours de résistance à celle-ci.
Fichier principal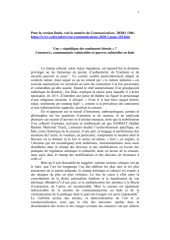 L. Zecchini Une république des sentiments blessés.pdf (302.03 Ko)
Télécharger le fichier