Deux exemples de fosses en « V » avec dépôt associé à Chilly-Mazarin (Essonne). La Butte-au-Berger IV (Phase 2).
Bei der Ausgrabung in Chilly-Mazarin/La-Butte-au-Berger IV konnten neben aneinandergereihten Silos der Jüngeren Eisenzeit, auch zwei Gruben freigelegt werden. Ihre primäre Funktion bleibt jedoch unbestimmt. Diese Strukturen wurden offenbar im Rahmen von besonderen Praktiken sekundär genutzt und sind mit Depots assoziiert, d.h. mit Menschenknochen in der Grube 5110 und mit Tierknochen in der Grube 5107. Gleichzeitig weisen diese Gruben jedoch ähnliche Charakteristika auf, wie Gruben mit «V, Y oder I» förmigem Querschnitt, Schlitzgruben oder Gerbgruben, die größtenteils in das Neolithikum oder die Bronzezeit datieren.
At Chilly-Mazarin/La-Butte-au-Berger IV, the excavation of silos arranged in rows and dated to the beginning of the Late Iron Age has allowed to evidence two pits of which the primary function has not been determined. Associated with human remains in pit 5110 and with faunal material in pit 5107, these features obviously have been re-used within particular practices. At the same time they show similar characteristics compared to the pits with «V, Y or I» shaped sections and the slot pits or tanning pits, mostly dated to the Neolithic and the Bronze Age.
A Chilly-Mazarin/La-Butte-au-Berger IV, la fouille de silos disposés en rangées et datés du début de l'âge du fer tardif a permis de mettre en évidence deux fosses dont la fonction première n'a pas été déterminée. Associés à des restes humains dans la fosse 5110 et à du matériel faunique dans la fosse 5107, ces éléments ont manifestement été réutilisés dans le cadre de pratiques particulières. En même temps, ils Dans le même temps, ils présentent des caractéristiques similaires à celles des fosses à section en "V, Y ou I" et des fosses à fente ou à tannage, datées pour la plupart du Néolithique et de l'Age du Bronze.
Fichier principal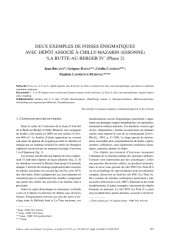 Bruant et al. 2013.pdf (8.46 Mo)
Télécharger le fichier
Origin : Publisher files allowed on an open archive