Commensality, irrigation and agrarian entanglements in Early Horizon Nepeña, Coastal Peru
Comensalidad, irrigación y enredos agrarios en Nepeña durante el Horizonte temprano, costa del Perú
Commensalité, irrigation et enchevêtrements agraires à Nepeña durant l'Horizon ancien, côte du Pérou
This article considers the extensification of cultivated fields and irrigation networks, and the concomitant intensification of farming practices in the lower Nepeña Valley during the Early Horizon (800-200 BC). This period marked shifts in local procurement strategies, production intensities and food preferences. Beginning around the sixth century BC, various processes led to profound, long-lasting shifts in the perception and management of agriculture in this small valley of the north-central coast of Peru. Recent archaeological investigations highlight the emergence of dense human settlements, the increased importance of camelids for regional trade, and a heavy reliance on maize to produce alcoholic beverages. The synergistic effect of these processes appear to have included new opportunities for social and political competition in which food—and in particular maize cultivation—might have occupied a more salient role. While taxonomic data on floral and faunal remains have been published and allow a reconstruction of diachronic changes in local foodways, little is known about ancient field systems. This article considers the distribution of irrigation systems and ancient human settlements to evaluate levels of farming production during the first millennium BC. Results of the spatial analyses are considered in light of the complex entanglements between commensal politics, agrarian labor traps, and broader path dependencies in ancient coastal Peru.
Este artículo considera la extensión de los campos de cultivo y las redes de riego, y la intensificación asociada de las prácticas agrícolas en el valle bajo de Nepeña durante el Horizonte temprano (800-200 a.C.). Este período marcó cambios en las estrategias locales de adquisición, la intensidad de producción y las preferencias alimentarias. Comenzando alrededor del siglo vi a.C., varios procesos condujeron a cambios profundos y duraderos en la percepción y el manejo de la agricultura en este pequeño valle de la costa nor-central del Perú. Investigaciones arqueológicas recientes resaltan la aparición de densos asentamientos humanos, la mayor importancia de los camélidos para el intercambio regional y una gran dependencia al maíz para producir bebidas alcohólicas. El efecto sinergístico de estos procesos parece haber incluido nuevas oportunidades de competencia social y política en las que los alimentos, y en particular el cultivo del maíz, podrían haber ocupado un papel más destacado. Mientras que los datos taxonómicos de restos de plantas y animales han sido publicados y utilizados para reconstruir los cambios alimentarios locales a través del tiempo, se sabe muy poco sobre los antiguos campos de cultivo. Este artículo considera la distribución de los sistemas de riego y de los asentamientos humanos con el objetivo de evaluar los niveles de producción agrícola durante el primer milenio a.C. Los resultados de los análisis espaciales se consideran a la luz de los complejos enredos (entanglement theory) entre la política comensal, las trampas laborales agrarias y las trayectorias de desarrollos culturales en la costa del Peru antiguo.
Cet article explore l'expansion des champs cultivés et des réseaux d'irrigation, ainsi que l'intensification conjointe des pratiques agraires dans la basse vallée de Nepeña, durant l'Horizon ancien (800-200 av. J.-C.). Cette période connaît des changements dans les stratégies d'approvisionnement, dans l'intensité de production et dans les préférences alimentaires. Dès le début du vie siècle av. J.-C., divers processus ont conduit à des modifications profondes et durables de la perception et de la gestion de l'agriculture. Des enquêtes archéologiques récentes soulignent l'émergence d'établissements humains denses, l'importance accrue des camélidés dans les échanges régionaux, et une forte dépendance au maïs pour produire des boissons alcoolisées. L'effet synergique de ces processus semble avoir inclus de nouvelles opportunités de compétition sociale et politique, dans lesquelles la nourriture – et en particulier la culture du maïs – aurait pu occuper un rôle prépondérant. Alors que les données taxonomiques de restes botaniques et fauniques ont été publiées, permettant ainsi la reconstruction des changements alimentaires locaux à travers le temps, nous en savons encore très peu sur les anciens champs cultivés. Cet article examine la distribution des systèmes d'irrigation et des établissements humains anciens dans le but d'évaluer les différents niveaux de production agraire durant le premier millénaire avant J.-C. Les résultats des analyses spatiales sont considérés à la lumière de la « théorie des enchevêtrements » (entanglement theory) et se penchent sur les liens complexes entre la politique commensale, les pièges de la main-d'œuvre agraire et les trajectoires plus larges de développements culturels sur la côte du Pérou ancien.
Fichier principal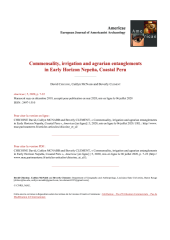 ame_2020_art_1_chicoine_et_al.pdf (1.27 Mo)
Télécharger le fichier
Origin : Publisher files allowed on an open archive