Coastal dune systems at Boughrara (Tiznit Province, Morocco) and human settlement since the MIS 5, a preliminary study
Systèmes dunaires littoraux de Boughrara (province de Tiznit, Maroc) et occupation humaine depuis le SIM 5, étude préliminaire.
La coupe de la falaise de Boughrara, sur le littoral du bas-plateau de Tiznit, permet de distinguer, sur une épaisseur de 24 m, l'accumulation de dix séries de dépôts dunaires côtiers, au sein de 5 unités sédimentaires principales (U0 à U4) déposées depuis le SIM 5. L'ensemble repose en effet sur U0, ensemble plage/dune où la plage fossile contient Thaïs haemastoma L. et Patella sp., caractéristiques du SIM 5 du Maroc atlantique. Les séries de dunes (SD1 à SD4) des unités inférieures sont d'épaisseurs métriques et sont grésifiées par des ciments vadoses calcitiques. Leur âge, post-SIM 5, reste encore imprécis. L'une d'entre elles (SD2) supporte un paléokjökkenmödding à Mytilus sp. Les séries de dunes (SD5 à SD8, ainsi que la « dune grise ») des deux unités supérieures sont moins épaisses, mieux stratifiées et moins consolidées. Ce sont plus des manteaux éoliens que de véritables dunes. La série SD6 est datée de 22 ± 2 ka (OSL) et supporte un site épipaléolithique ; les trois dernières séries dunaires contiennent des kjökkenmöddingen néolithiques riches en restes travaillés de coquilles d'oeufs d'Autruche. Les caractéristiques pétrographiques et sédimentologiques des dunes mettent en évidence les implications importantes du dispositif géomorphologique sur l'évolution du paysage côtier en fonction des zones-sources liées aux variations eustatiques. Enfin cette étude démontre que les systèmes dunaires côtiers en zone aride, réputés répulsifs, ont connu au moins trois épisodes d'occupation humaine depuis le SIM 5. Abstract The cliff of Boughrara, on the Tiznit low-plateau coastal area, shows a 24 m thick accumulation of five main sedimentary Units (U0 to U4). Ten coastal dune series can be distinguished through these Units and were deposited since the MIS 5: U0 consists indeed on a basal sandy-gravelly beach deposit with a Thaïs haemastoma L. and Patella sp. macrofauna (i.e. typical "ouljian" fauna), overcomed by a well stratified coastal dune. The coastal dune series (SD1 to SD4) of the lower Units are of metric thickness and consolidated by vadose calcitic cements only. Their age, post-MIS 5, remains imprecise. One of them (S2) bears a Mytilus sp. palaeokjökkenmödding. The coastal dune series (SD5 to SD8, and the so-called "grey dune") of the upper Units look less thick and less consolidated, but sometimes better stratified. They are more sand sheet-like deposits of sediments instead of real dune accumulation. The SD6 serie is dated at 22 ± 2 ka (OSL) and bears an Upper Paleolithic site; the three last coastal dune series contain numerous Neolithic kjökkenmöddingen with tools and worked remnants of Ostrich egg shells. The sedimentologic and petrographic features of the different dunes show the great influence of the geomorphologic framework on the coastal landscape evolution, according to the source-origins that are linked to the eustatic variations. Endly, this study shows that some parts of the arid zone coastal systems, often globally thought as repulsive, have known here at least three human settlement episodes since the MIS 5.
Fichier principal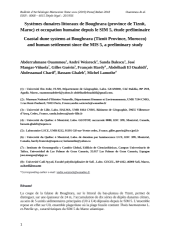 SystdunlittBoughraraAOSBAWCopie-Copie-2.pdf (4.36 Mo)
Télécharger le fichier
Origin : Files produced by the author(s)