New onshore/offshore evidence of the Messinian Erosion Surface from key areas: The Ibiza-Balearic Promontory and the Orosei-Eastern Sardinian margin
Découverte de la surface d'érosion messinienne onshore/offshore dans deux lieux clés : le Promontoire Baléares (Ibiza) et la marge est-sarde (Orosei).
As the Messinian sea-level draw down associated with the Messinian Salinity Crisis is still questioned, we propose to show that the widely spread erosion surface affecting the Mediterranean margins is indeed linked to an exondation demonstrated from offshore and onshore data. Our study presents a comprehensive onshore to offshore correlation of the Messinian erosional surface. It is focused on small drainage systems or interfluve areas, outside of evaporite basins or incised canyons, where the Messinian erosion had not yet been studied previously: around Ibiza on the Balearic Promontory and around Orosei on the Eastern Sardinian margin, Tyrrhenian Basin, both areas where new offshore data were recently acquired. We show that the late Messinian erosion formed in subaerial settings, as testified by evidence of continentalization events, and attests for a regression phase that was correlated from the offshore continental slopes to the onshore paleo-platforms in both areas. Characteristics of this erosion in both study areas strengthen the scenario with at least one important low-stand sea-level for the Messinian Salinity Crisis with evaporites subbasins lying at different depths and possibly disconnected.
Depuis la découverte de la crise de salinité messinienne dans les années 70, le scénario proposant une chute importante du niveau marin associé à la mise en place des évaporites dans les plaines abyssales de la Méditerranée est régulièrement remis en cause. Nous montrons que la surface d'érosion affectant l'ensemble des marges est en effet liée à une émersion que l'on peut suivre à terre. Les observations présentées à terre s'attachent aux zones d'interfluves en dehors des bassins évaporitiques périphériques, là où la surface d'érosion messinienne n'a pas été étudiée : autour de l'île d'Ibiza dans les Baléares et autour d'Orosei sur la marge est-sarde. La surface d'érosion messinienne y est mise en évidence pour la première fois. Les données de sismique haute résolution récemment acquises dans ces deux zones nous permettent de présenter des corrélations terre-mer. Des évènements marquant clairement une continentalisation caractérisent la limite Mio-Pliocène dans les deux régions et atteste une phase régressive que l'on peut suivre des paléo-plateformes continentales à terre aux pentes du domaine offshore. Ces observations apportent des éléments pour étayer un scénario de la crise avec un bas niveau marin et des bassins évaporitiques à différentes paléo-bathymétries, possiblement déconnectés les uns des autres.
Fichier principal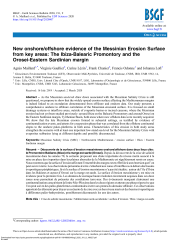 bsgf_2020_191_9_190027.pdf (7.13 Mo)
Télécharger le fichier
Origin : Publisher files allowed on an open archive