Walking the landscape: the project as an ecology of attention.
Marcher le paysage : le projet comme écologie de l'attention
This paper is based on a series of pedagogical experiments carried out within the framework of training in urbanism and in which it is proposed to think, to represent, to experiment and to design the landscapes of tomorrow by walking - or rather through specific walks from an in situ classes to «transects» via the «inhabitants itineraries». From the narrative of these experiences, the links between walking, landscape and design are questioned. How does walking articulate invention, explicitation and attentive listening of landscapes? How does it stimulate a recomposition of relations between oneself, others and the landscape? Does it shape a specific pedagogy of urban design? And finally, what does it tell us about the landscape itself? As summoned by these walks and projects, the landscape is not so much related to the vision as to its shaping by its inhabitants. The recommended walk then evades contemplative passivity, to be part of a more dynamic position related to the activities that form this landscape.
Cet article s'appuie sur une série d'expériences pédagogiques réalisées dans le cadre de formations en urbanisme et dans lesquelles il est proposé de penser, de représenter, d'expérimenter et de fabriquer les paysages de demain par la marche - ou plutôt au travers de marches allant du cours in situ, au « transect » en passant par les « itinéraires habitants ». A partir du récit de ces expériences, les liens entre marche, paysage et projet sont questionnés. Comment la marche articule-elle invention, explicitation et écoute attentive des paysages ? Comment suscite-elle une recomposition des relations entre soi, les autres et le paysage ? Façonne-elle en creux une pédagogie du projet spécifique ? Et enfin, que nous dit-elle du paysage lui-même ? Tel que convoqué par ces marches et ces projets, le paysage n'est pas tant lié à la vue qu'à sa mise en forme par ses habitant-e-s. La marche préconisée se soustrait alors à la passivité contemplative, pour s'inscrire dans une position plus dynamique liée aux activités qui composent ce paysage.
Fichier principal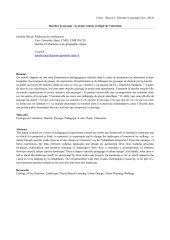 BUYCK URBIA avec images.pdf (24.59 Mo)
Télécharger le fichier
Origin : Files produced by the author(s)