Expérimentation et modélisation du comportement hyperélastique d'une membrane dans une cartouche microfluidique
Dealing with discrete volumes of fluid in microfluidics in the health field has driven the researchers to look for ground-breakingtechnologies. A possibility is to work with fluidic chambers definedby a hyperelastic membrane pneumatically activated. In this article, a microfluidic method to characterizethe deformation of such a membrane is presented. The results from two hyperelastic models, namely Yeoh and Mooney-Rivlin, are compared to experimental results. This comparison is based on the different valuesof the parameters used within themodels that the scientific literature provides.
La nécessité de manipuler des volumes discrets de liquide en microfluidique dans le domaine de la santé, conduit les chercheurs à trouver des technologies innovantes. Une possibilité est de travailler avec des chambres fluidiques limitées par une membrane hyperélastique, activée pneumatiquement. Dans cet article, une méthode microfluidique pour caractériser la déformation d'une telle membrane est présentée. Les résultats issus de deux modèles hyperélastiques, les modèles Yeoh et Mooney-Rivlin, sont confrontés à des résultats expérimentaux qui ont été obtenus. Cette comparaison repose sur les différentes valeurs des paramètres utilisés dans ces modèles que la littérature scientifique propose.
Fichier principal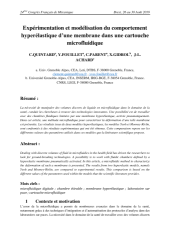 Article_CFM_2019Final.pdf (1002.87 Ko)
Télécharger le fichier
Origin : Files produced by the author(s)