Objets et récipients de stockage en terre crue en contextes funéraire et domestique du Néolithique final sur le site de Mas Rouge/La Cavalade, Montpellier (Hérault)
Unbaked clay objects and containers begin to be correctly listed for protohistorical sites, today, but are still little known for Neolithic period due to the lack of studies regarding wide groups of objects. The excavations carried out on the collective grave at Mas Rouge and La Cavalade settlement, located in the south of Montpellier (Hérault), expand upon late Neolithic datasets currently available with about 2500 new fragments. One of the specific features of this ensemble is its provenience from funeral and domestic contexts. Comprehensive study led on funeral objects has highlighted their technical characteristics within an architectural context marked by the use of earth, and allowed to compare its typology with that for the settlement.
Les objets et contenants en terre crue commencent à être bien répertoriés sur les sites protohistoriques mais sont encore mal connus pour la période néolithique qui offre peu d'études de grandes séries. Les fouilles de la sépulture collective de Mas Rouge et du village de la Cavalade, deux sites voisins implantés au sud de Montpellier (Hérault), viennent enrichir le référentiel du Néolithique final avec près de deux mille cinq cents fragments. Une des caractéristiques de cette série est de se répartir entre contexte funéraire et contexte domestique. L'étude exhaustive du mobilier issu de la sépulture a permis de mettre en évidence les particularités techniques de ces pièces, réalisées dans un cadre bâti dominé par l'usage de la terre crue, et de confronter les éléments typologiques avec ceux provenant du village.
Fichier principal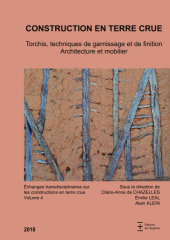 5-2 leal jallet etc.pdf (18.95 Mo)
Télécharger le fichier
Origin : Publisher files allowed on an open archive