SO-DRIIHM: promoting Open Science within the LabEx DRIIHM and improving its Research Data Infrastructure
The "SO-DRIIHM" project has just obtained funding from the Flash Call "Open Science: research practices and open research data" proposed by the ANR in 2019. It is managed by a group of geomatics and IT engineers within the CNRS interdisciplinary network (LabEx DRIIHM) of 13 Human-environment observatories (OHMs). The objective of this project (May 2020 - April 2022) is to optimize the appropriation of the open science approach by the DRIIHM research community through: •the organisation of awareness campaigns showing the benefits of data sharing and openness; •the co-construction of a more ergonomic and interoperable e-infrastructure, integrating existing tools (metadata geocatalogues, web GIS, photo library, HAL collection, etc.) and accompanying researchers to find, share and (re)use data with the concrete and progressive implementation of the FAIR principles (Findable, Accessible, Interoperable, Reusable). The originality of this project lies in the bottom-up co-construction of the e-infrastructure, involving researchers from the early stages of the project (during DRIIHM seminars and workshops) to jointly identify and support changes in practices throughout the life cycle of the data produced by OHMs. This project provides the opportunity to respond to the recommendations of the French National Open Science Plan and to strengthen collaboration between the researchers and the group of OHM referent engineers and scientific coordinators. It also brings together ergonomists and web development specialists (UMR IRIT Toulouse and Makina Corpus) to meet the community's expectations for all observatories.
Le projet "SO-DRIIHM" est lauréat de l'Appel Flash "science ouverte : pratiques de recherche et données ouvertes" proposé par l'ANR en 2019. Il est piloté par un groupe d'ingénieurs en géomatique et informatique au sein du dispositif interdisciplinaire du LabEx DRIIHM actuellement composé de 13 Observatoires Hommes-Milieux du CNRS (OHM). L'objectif de ce projet (mai 2020 - avril 2022) est d'optimiser l'appropriation de la démarche de science ouverte par la communauté de chercheurs à travers : •l'organisation de campagnes de sensibilisation montrant les bénéfices du partage et de l'ouverture des données ; •la co-construction d'une e-infrastructure plus ergonomique et interopérable, intégrant les outils existants (géo-catalogues de métadonnées, web SIG, photothèque, collection HAL, etc.) et accompagnant les chercheurs pour trouver, partager et (ré)utiliser les données avec l'implémentation concrète et progressive des principes FAIR (Findable, Accessible, Interoperable, Reusable). L'originalité de ce projet réside dans la co-construction "bottom-up" de l'e-infrastructure avec l'implication de chercheurs dès les phases amont du projet (durant les séminaires DRIIHM et workshops) pour, ensemble, identifier et accompagner les changements de pratiques tout au long du cycle de vie des données produites par les OHM. Ce projet offre l'opportunité de répondre aux recommandations du Plan National pour la science ouverte et de renforcer la collaboration entre les chercheurs et le groupe d'ingénieurs référents et de coordinateurs scientifiques des OHM. Il associe également des ergonomes et spécialistes du développement web (UMR IRIT Toulouse et société Makina Corpus) afin de répondre aux attentes de la communauté pour l'ensemble des observatoires.
Fichier principal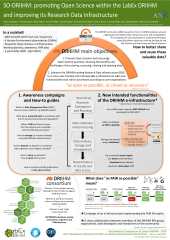 Poster_DRIIHM2019_SO-DRIIHM_Lerigoleur_et_al.pdf (2.16 Mo)
Télécharger le fichier
Origin : Files produced by the author(s)