ACTING ON THE VEGETATION TO REDUCE THE RISKS RELATED TO MINING WASTE DEPOSITS: ECOTECHNOLOGICAL APPROACH ON THE LIGNITE WASTE HEAP OF "LE DEFENS" (OHM BASSIN MINIER DE PROVENCE)
The lignite waste heap named Le Défens, located on the territory of the OHM Bassin Minier de Provence, is subject to hazards related to the nature of this mining waste deposit: superficial landslide hazard, non-negligible fire risk and risk of contamination transfer by erosion of the substrate. However, today it is accessible to the public and is the place of many practices despite the potential dangers. The objective of this study was to analyze the effect of the various types of vegetation present on the heap on the quality and the stability of the substrate of the heap slopes, on the fire risk and to assess the quality of the runoff water. on the slag heap in order to recommend the most appropriate actions to limit the risks. The substrate of the heap is of mediocre quality and not very stable. However, vegetation is maintained there. Some vegetation strata characterized by a dense and relatively homogeneous vegetation cover seem more appropriate for slope stabilization. The use of pioneer local, nurses and engineers plant species could be an interesting solution to stabilize the unvegetated slopes of the heap. On the other hand, the water content of soils and plants, the composition and structure of vegetation can play a role in fire prevention. The gradual conversion of the Aleppo pine stand to a non-coniferous woody stand could limit the risks of fire spread and landslides. The facies of erosion observed on the heap represent preferential paths of water flow. However, only a tiny fraction of the substrate elements appears to be transferred to water. The proposed conversion of the pine forest to a non-coniferous shrub formation with herbaceous and diverse undergrowth could also limit these risks.
Le terril du Défens, situé sur le territoire de l'OHM Bassin Minier de Provence, est soumis à des aléas liés à la nature de ce dépôt de déchets miniers : aléa de glissement de terrain superficiel, risque d'incendie non-négligeable et risque de transfert de contamination par érosion du substrat. Cependant, aujourd'hui, il est accessible au public et est le lieu de nombreuses pratiques malgré les dangers potentiels. L'objectif de cette étude a été d'analyser l'effet des différents types de végétation présents sur le terril sur la qualité et la stabilité du substrat des pentes du terril, sur le risque incendie et d'évaluer la qualité des eaux de ruissellement sur le terril afin de préconiser les actions les plus adéquates pour limiter les risques lors de la fréquentation du terril. Le substrat du terril est de qualité médiocre et peu stable. Cependant, une végétation s'y maintient. Certaines strates de végétation caractérisées par un couvert végétal dense et relativement homogène semblent plus appropriées pour la stabilisation des pentes. L'utilisation de plantes locales pionnières, nurses et ingénieures pourrait constituer une solution intéressante afin de stabiliser les pentes non végétalisées du terril. D'autre part, la teneur en eau des sols et des plantes, la composition et la structure de la végétation peuvent jouer un rôle dans la prévention des incendies. La conversion progressive du peuplement de pin d'Alep vers un peuplement de ligneux non-résineux pourrait limiter le risque de propagation d'incendie et les glissements de terrain. Les faciès d'érosion observés sur le terril représentent des chemins préférentiels d'écoulement des eaux. Cependant, seule une fraction infime des éléments du substrat semble être transférée à l'eau. La conversion proposée de la pinède vers une formation arbustive non résineuse présentant un sous-bois herbacé et diversifié pourrait également limiter ces risques.
Fichier principal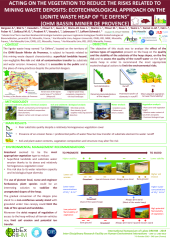 Bergeon_et_al_OMH-BMP19_final-reduit.pdf (10.76 Mo)
Télécharger le fichier
Origin : Files produced by the author(s)