How to operationalize and to evaluate the FAIRness in the crediting and rewarding processes in data sharing: a first step towards a simplified assessment grid
Comment opérationnaliser et évaluer la prise en compte du concept 'FAIR' dans le partage des données: Vers une grille simplifiée d'évaluation du respect des critères FAIR.
Indexed identifier ? Identification Are each data/dataset identified by an indexed and independant identifier ? Persistent metadata / data link ? Metadata traceability Are the metadata linked to the dataset through a persistent identifier? Metadata & authority linked ? Metadata traceability Are the metadata of each dataset linked to a unique authority (responsible for the datasets at a given time)? Unique, global, persistent ID? Identification Are the data identifiers unique, global and persistent ? Are the data identifiers unique, global and persistent ? Datasets linked to authority ? Metadata traceability Are all datasets linked to an authority (legal entity) through a unique and persistent identifier over time (e.g. institution, association or established body)? In case of a legal reuse restriction (such as personal data, state and public security, national defense secret, confidentiality of external relations, information systems security, secrets in industrial and commercial matters) , is the restriction properly justified?
SHARC (SHAring Reward & Credit) est un groupe d'intérêt scientifique interdisciplinaire créé dans le cadre de RDA (Research Data Alliance) dans le but de faciliter le partage des données de recherche (et des ressources) par la valorisation de l'ensemble des activités pré-requises à ce partage, tout au long du cycle de vie des données. Dans ce cadre, un sous-groupe de travail SHARC élabore des grilles d'évaluation des chercheurs afin de mesurer leur niveau de prise en compte des principes FAIR dans la gestion de leurs données. La grille d'évaluation présentée dans ce poster est destinée à être complétée par tout scientifique produisant et / ou utilisant des données. Il s'agit d'un résumé d'une grille d'évaluation plus étendue conçue pour un partage optimal des données (non encore mise en œuvre pour le moment par la plupart des scientifiques). L'évaluation est basée sur les critères de conformité FAIR. Pour remplir cet objectif, la grille affiche le minimum de critères qui doivent absolument être appliqués par les chercheurs pour attester de leur pratique FAIR. Ces critères sont organisés en 5 groupes: «Motivations de partage»; "Trouvable", "Accessible", "Interopérable" et "Réutilisable". Pour chaque critère, 4 degrés d'évaluation sont proposés ("Jamais / Non évaluable"; "Si obligatoire"; "Parfois"; "Toujours"). Au moins un degré mais un seul doit être sélectionné par critère. L'évaluation doit être effectuée pour chaque catégorie F / A / I / R; L'évaluation finale est la somme de chaque degré coché rapportée au nombre total de critères dans chaque catégorie F / A / I / R. Des règles d'interprétation prenant en compte les «motivations du partage» sont proposées.
Fichier principal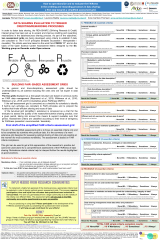 RDA-SHARC Simple Grid FAIR Poster -2018 revised 28 jan 2019.pdf (463.49 Ko)
Télécharger le fichier
Origin : Files produced by the author(s)