Combine singularity and conformity to take position in the international urban market. Confluence and Lyon's image renewal
Conjuguer singularité et conformité pour se positionner sur le marché international de l'urbain. Confluence et le renouvellement de l'image de Lyon
Conjugar singularidade e conformidade para se posicionar sobre o mercado internacional do urbano. Confluence e a renovação da imagem de Lyon
To attract the investors for whom they compete in the urban market, cities aim after making themselves desirable for national and global capital seeking locations to increase profitability. Thus, they work to improve their brand image. For this purpose, they value, on the one hand, their singularities, i.e. the present or under development features that distinguish them, and, on the other hand, their conformity to the dominant values ​​of the discourses on the "cities that matter", which means, at the beginning of the twenty-first century, being sustainable, beautiful, festive, patrimonial, festive, innovative or socially mixed. Like Confluence in Lyon, major urban and architectural projects are nowadays precious tools for changing or renovating the image of a city by responding to this dual objective of conformity and singularity. By analyzing interviews with planners, developers, urbanists and architects from Confluence, we show that the image change and the images, which are based on the singularity/conformity pair, have consequences on the socio-spatial structure of both this new district and the surrounding area, Sainte-Blandine. Some inhabitants are legitimized because they correspond to the targeted population and they appropriate this image as much as they participate in formulating it. Unlike them, some are excluded from this image and their presence is finally undesirable in this area of ​​Lyon and, by extension, throughout its entire downtown.
Pour attirer les investisseurs pour lesquels elles sont en concurrence sur le marché de l'urbain, les villes cherchent à se rendre désirables pour un capital national et mondial qui cherche des lieux où accroître sa rentabilité. Elles travaillent ainsi à améliorer leur image de marque. Pour ce faire, elles valorisent, d'un côté, leurs singularités – les caractères présents ou en cours d'élaboration qui les distinguent – et, de l'autre, leur conformité aux valeurs dominantes des discours sur les villes « qui comptent », soit au début du XXIe siècle être durables, belles, festives, patrimoniales, innovantes ou encore socialement mixtes. À l'image de Confluence à Lyon, les grands projets urbains et architecturaux sont aujourd'hui de précieux outils pour changer ou rénover l'image d'une ville en répondant à ce double objectif de conformité et de singularité. En analysant des entretiens avec les aménageurs, promoteurs, urbanistes et architectes de Confluence, nous montrons que le changement d'image et la mise en images, qui s'appuient sur le couple singularité/conformité, ont des conséquences sur la structure socio-spatiale de ce nouveau quartier et sur celui limitrophe de Sainte-Blandine. À la catégorie des habitants légitimés parce qu'ils correspondent à la population visée et s'approprient cette image autant qu'ils participent à la formuler, s'oppose celle de ceux qui sont exclus de cette image et dont la présence est in fine indésirable dans ce secteur de Lyon et, par extension, dans tout son centre-ville.
Para atrair os investidores pelos quais estão competindo no mercado do urbano, as cidades procuram tornar-se desejáveis para um capital nacional e mundial que procura localidades onde aumentar a sua rentabilidade. Elas trabalham assim para melhorar a sua imagem de marca. Para isso, elas valorizam, de um lado, as suas singularidades – as características presentes (ou em curso de elaboração) que as distinguem – e, de outro, a sua conformidade aos valores dominantes dos discursos sobre as cidades "que importam", ou no início do século XXI, serem sustentáveis, bonitas, festivas, patrimoniais, inovadoras ou ainda, socialmente mistas. Na imagem de Confluence, em Lyon, os grandes projetos urbanos e arquiteturais hoje são preciosos instrumentos para alterar ou renovar a imagem de uma cidade respondendo a este duplo objetivo de conformidade e de singularidade. Analisando entrevistas com os planejadores, promotores, urbanistas e arquitetos de Confluence, mostramos que a mudança de imagem e a imagem criada, que se apoiam sobre a dupla singularidade/conformidade, têm consequências sobre a estrutura sócio-espacial deste novo bairro e sobre seu vizinho, Sainte-Blandine. Alguns habitantes são legitimados porque correspondem à população - alvo e se apropriam desta nova imagem tanto quanto participam de sua formulação. Ao contrário deles, outros são excluídos dessa imagem e sua presença torna-se indesejável naquela área de Lyon e, por extensão, em todo o centro da cidade.
Fichier principal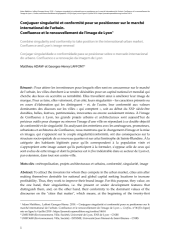 Adam, Laffont - 2018 - Conjuguer singularité et conformité pour se positionner sur le marché international de l'urbain.pdf (1.31 Mo)
Télécharger le fichier
Origin : Files produced by the author(s)