Les meules de l'âge du Fer en Champagne-Ardenne
There are many querns from the Iron Age in the Champagne-Ardennes region. It is possible to observe and date relatively precisely the transition of saddle querns to rotary querns, quern types that coexisted at certain sites. The rotary quern was introduced between La Tene B (400-250 BC) and La Tene C1 (250-175 BC), but only became dominant in La Tene C2 (175-130 BC). This study presents its typological evolution, notably its increase in diameter and the change of the choice of rock from arkose to limestone.
La région Champagne-Ardenne a livré un nombre important de meules de l'âge du Fer. Il est possible d'observer ici le passage des moulins va-et-vient aux moulins rotatifs, avec des datations relativement précises, et la coexistence sur certains sites des deux types. Apparus entre La Tène B (400 à 250 av. J.-C.) et La Tène C1 (250 à 175 av. J.-C.), les moulins rotatifs deviennent dominants à partir de La Tène C2 (175 à 130 av. J.-C.). L'enquête a permis de préciser leur évolution typologique, l'augmentation de leur diamètre, le remplacement fréquent des arkoses par le calcaire pour la confection des moulins rotatifs.
Fichier principal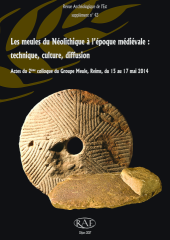 4_Jaccottey-etal_2017_Meules-AgeFer-Champagne-Ardenne.pdf (7.21 Mo)
Télécharger le fichier
Origin : Explicit agreement for this submission