Faire théorie pour faire science ?
The paper questions how theoretical production has been conceived as a way to scientize French literary studies in the 1960s and 1970s. The emergence of structural methods engaged reflections on scientificity in the Humanities, which were extended in the semiology developed around Roland Barthes. The question of science then appeared through the debates on the role of literary criticism. The end of the 1960s is marked by an evolution towards an aesthetic and theoretical radicalness which identified theory and science. Eventually, the collective construction of poetics around Genette and Todorov shows at the same time how theory is prioritized over the question of science, and the complex relationship with literature in the definition of a science of literature. The paper relies on a study of some theoretical texts and of several theorists' trajectories, in a perspective of historical sociology of Social Sciences and Humanities.
L'article interroge la manière dont la production théorique a pu être conçue comme un outil de scientisation des études littéraires en France dans les années 1960 et 1970. L'émergence des méthodes structurales engage des réflexions sur la scientificité dans les sciences humaines, prolongées dans la sémiologie développée autour de Roland Barthes. La question de la science traverse ensuite les débats sur le rôle de la critique littéraire. La fin des années 1960 marque le passage à une radicalité esthétique et théorique qui fait de la théorisation le corrélat de la science. Enfin, la construction collective de la poétique autour de Genette et Todorov montre à la fois le primat de la théorisation sur la question de la scientificité et la complexité du rapport aux objets littéraires dans la définition d'une science de la littérature. L'article s'appuie sur l'étude des textes et des trajectoires des théoriciens, dans une perspective de sociologie historique des sciences humaines et sociales.
Fichier principal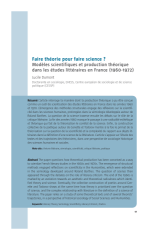 02-Dumont.pdf (170.18 Ko)
Télécharger le fichier
Origin : Publisher files allowed on an open archive