The French penalty points system in governing driving behaviour
Quelle place pour le permis à points dans le gouvernement des conduites automobiles?
The driving licence is most often regarded as a certification of driving ability. Thus it is logically regarded by the dedicated research under the angle of the driving education. In this article, the driving licence is regarded as a tool of government, which is useful to understand the successes and the failures of the road safety policy in France since 2002. First, we analyse the making of a successful and sophisticated policy instrument mix, which mixed penalty points system, automated speed cameras and point retrieval programs. Secondly, we present the controversies on road safety policy which mark out the next decade. During this sequence, some technological innovations and market solutions are in capacity to neutralize the governmental combination of instruments utilized with success in road safety policy.
Le permis de conduire est communément envisagé comme une certification d'aptitude à la conduite. Il est donc logiquement appréhendé par la recherche spécialisée sous l'angle de l'éducation à la conduite. Il est envisagé ici sous un angle différent qui en fait un instrument de gouvernement incontournable pour comprendre les succès et échecs de l'action publique en matière de sécurité routière. Pour réfléchir à la place qu'occupe le permis à points dans la politique de sécurité routière en France, nous optons pour une approche généalogique. Celle-ci conduit, dans un premier temps, à montrer la fabrique d'une combinaison instrumentale vertueuse qui, au cours des années 2000, associe le permis à points, l'automatisation du contrôle-sanction, l'abaissement du seuil de « tolérance » des excès de vitesse et le développement des stages de récupération de points. Dans un deuxième temps, nous présentons les controverses qui jalonnent la décennie suivante et aboutissent à la remise en cause de la croyance dans le caractère nécessairement vertueux de la combinaison obtenue et aussi de son efficacité. Cette dernière séquence voit l'apparition de nouveaux instruments, à caractères technologiques, produits du marché et de l'inventivité de la société, qui sont en capacité de neutraliser les effets de la combinaison instrumentale forgée par les pouvoirs publics.
Fichier principal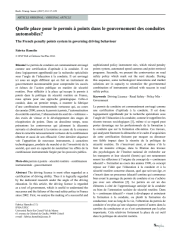 S0761898017002096a.pdf (773.24 Ko)
Télécharger le fichier
Origin : Explicit agreement for this submission