From sustainable consumption to sustainable practices
This study examines the sustainable practices adopted by private individuals. Ten households observation, twenty-two face to-face interviews and three hundreds questionnaires highlight a number of daily practices combining sustainability-oriented and individualistic motivations. Three spheres of sustainable practices (purchases, habits and share/transmission) three patterns (occasional adoption, integration and compensation) and different consumer clusters appear. Recommendations for sustainable marketing are provided.
Cet article étudie les pratiques durables adoptées quotidiennement par les individus. L'observation de 10 ménages, 22 interviews en face-à-face et 300 questionnaires permettent de comprendre la diversité des pratiques durables des individus oscillant entre motivations tournées vers le développement durable et tournées vers des intérêts plus personnels. Trois sphères de pratiques durables (achats, usages et transmission), trois régimes de pratiques (adoption ponctuelle, intégration et compensation) ainsi que différentes classes d'individus identifiées selon leurs pratiques motivées apparaissent. Cet article se termine par des recommandations pour le marketing durable.
Fichier principal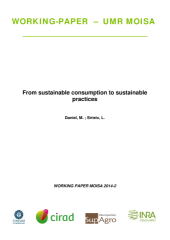 WP_2_2014-1_1.pdf (100.82 Ko)
Télécharger le fichier
Origin : Files produced by the author(s)