Analyse comparative de pratiques d'animation d'une discussion à visée démocratique et philosophique vues sous l'angle de la temporalité
This study focuses on how the tool "philosophically and democratilly oriented discussion" (RPRC) is transformed by its users into instrument over situations. The comparative analysis of practices rather a novice facilitator and an expert facilitator reveals three crucial elements of temporal representation of the situation RPRC. A wide time span, anchored in the long time required for the decline of thought; the kairos, steeped in immediacy and urgency to seize the opportunity and spirality, inscribed in a time of repetition and variation favorable to deepening. These three experiential knowledge associated, detailed in this article and stated in terms of constituent operational invariants of an expert animation RPRC scheme, appear to be critical in the sense that they rely to a large extent the expertise of a discussion leader .
Cette étude s'intéresse à la manière dont l'outil "Discussion à Visée Démocratique et Philosophique" (DVDP) est transformé par ses utilisateurs en instrument au fil des situations. L'analyse comparative des pratiques d'un animateur plutôt novice et d'un animateur expert fait apparaître trois éléments cruciaux de représentation temporelle de la situation de DVDP. Un empan temporel large, ancré dans le temps long pour le nécessaire recul de la pensée; le kairos, ancré dans l'immédiateté et l'urgence pour saisir les opportunité et la spiralité, inscrite dans un temps de répétitions et de variations favorable aux approfondissements. Ces trois connaissances expérientielles associées, détaillées dans cet article et énoncées en termes d'invariants opératoires constitutifs d'un schème expert de l'animation de DVDP, apparaissent comme critiques au sens où elles fondent pour une grande part l'expertise d'un animateur.
Fichier principal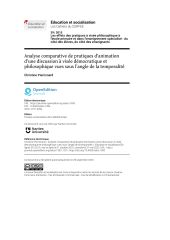 edso-1393.pdf (244.89 Ko)
Télécharger le fichier
Origin : Publisher files allowed on an open archive
Licence : CC BY NC ND - Attribution - NonCommercial - NoDerivatives