The Impact of Indexical and Symbolic Indicators on the Regulation of Collaborative Activities.
De l'efficacité de visualisations indicielles ou symboliques pour la régulation d'activités collaboratives
Regulatory mechanisms are important when conducting collaborative activities. And previous research showed that providing individual or collective feedback about the ongoing collaboration can lead to better regulation. In this article, we propose to study the impact of different visual of indicators on the control process of collaborative activities. We studied two kinds of indicators : indexical indicators built into the objects being handled and symbolic indicators, added to the activity interface. We conducted a preliminary study with 32 participants. Our results show that regulation efficiency according to the indicator is neither better with indexical visualization nor with symbolic visualization, which leads us to think that a mixed use of indexical and symbolic visualizations would be more effective.
Les mécanismes de régulation de groupe sont particulièrement importants pour mener à bien des activités collaboratives. Les dispositifs numériques peuvent permettre une meilleure régulation, notamment en fournissant des retours individuels ou collectifs sur la collaboration en cours. Dans cet article, nous proposons d'étudier l'impact que peuvent avoir différentes visualisations d'indicateurs sur le processus de régulation dans les activités collaboratives. Pour cela, nous avons étudié deux types d'indicateurs, les indicateurs indiciels qui se fondent dans les objets manipulés, et les indicateurs symboliques qui sont adjoints à l'interface de l'activité. Nous avons réalisé une étude préliminaire avec 32 participants. Les résultats mitigés tendent à montrer que qu'une visualisation indicielle ou symbolique n'est pas intrinsèquement meilleure, ce qui nous laisser penser qu'une utilisation mixte pourrait être plus efficace.
Fichier principal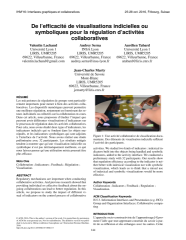 p144-lachand.pdf (2.88 Mo)
Télécharger le fichier
Origin : Files produced by the author(s)