Modèle de joueur pour la ludification adaptative d'une plateforme d'apprentissage
Many learning environments are swiftly abandoned by the learners, even if they are effective. Gamification appears as a recent game-based learning approach to enhance the learners' motivation. However, individual expectations and preferences towards game-like features may be very different from one person to another. This paper presents a model to adapt gamification features according to a player profile of the learners. Two version of this model are evaluated within a gamified online learning environment. The first version comes from experts' judgment, and the second one is induced from empirical data. Our experiments confirm that the first version can be efficient to predict the player's preferences among the gamification features.
Les environnements d'apprentissage sont fréquemment délaissés par les apprenants, malgré leur efficacité. La ludification est une approche de plus en plus utilisée pour répondre au manque de motivation des apprenants. La difficulté est que chacun a des sensibilités différentes aux mécaniques de jeu, et cela n'est généralement pas pris en compte. Cet article présente un modèle pour adapter les fonctionnalités ludiques selon les profils de joueur des apprenants. Nous comparons plusieurs méthodes pour implémenter ce modèle dans un environnement d'apprentissage ludifié : en se basant sur le jugement d'experts, ou sur des données empiriques. Nous avons implémenté un modèle développé avec la première méthode dans un environnement d'apprentissage en ligne. Les expérimentations présentées confirment l'efficacité du modèle basé sur le jugement d'experts.
Fichier principal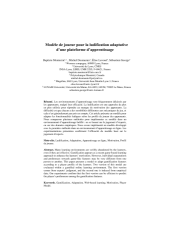 Monterrat EIAH 2015.pdf (566.06 Ko)
Télécharger le fichier
Origin : Files produced by the author(s)