La Cité de la santé, une expérience d'empowerment
The Cité de la santé (City of Health), an information and resource centre based in Paris's largest science museum, the Cité des sciences et de l'industrie, provides the general public - whether they be users, carers, professionals or simple passersby - with access to a wide variety of interactive information sources allowing individuals to empower themselves to become actors of both their own personal health and the health of their community. Situated at the heart of a cultural mediation space including representatives of user, carer and professional organisations, the Cité de la santé has become a veritable reference point in France for developing and valorising healthcare service user expertise through exhibitions, events and workshops in a wide variety of health areas.
Centre de ressources documentaires, lieu d'accueil et de service, la Cité de la santé s'inscrit dans l'offre de médiation de la Cité des sciences et de l'industrie. Cette plateforme partenariale donne à l'usager - qu'il soit malade, proche de malade, professionnel ou simple curieux d'une question de santé - les moyens de s'informer librement pour devenir citoyen éclairé et acteur de sa propre santé. De plus, située au sein d'un établissement culturel et médiatrice entre les personnes, les représentants des malades et les soignants, la Cité de la santé est devenue un cadre de référence pour la construction et la reconnaissance de l'expérience des patients, comme le confirment les expositions et témoignages ou les journées de dialogue qu'elle coproduit.
Fichier principal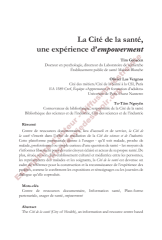 sante_30042010_def-2_np.pdf (330.07 Ko)
Télécharger le fichier
Origin : Explicit agreement for this submission