Comparaison inter-classements des revues en sociologie-démographie et en science politique
The French Agency for the Evaluation of Research and Higher Education (AERES) recently published journal rankings in the human and social sciences. This document compares AERES rankings for francophone journals in sociology/demography and political science with two former rankings, by Philippe Jeannin and by the authors of a CNRS-sponsored "Periodicals study" respectively. We first observe that the threefold classification used in each ranking resorts to different criteria, in such a way that no methodological consensus seems to emerge from the comparison. The rankings themselves are starkly heterogeneous: in political science, only 11 journals appear in the two compared rankings, eight of them only with the same rank. In sociology/demography, 26 'ranking agreements' and 17 divergent rankings are observed within the range of comparable journals.
L'Agence d'Évaluation de la Recherche et de l'Enseignement Supérieur (AERES) a récemment publié des classements de revues en sciences humaines et sociales. Ce document compare les classements de revues francophones établis par l'AERES pour la sociologie/démographie et pour la science politique avec deux classements antérieurs, établis par Philippe Jeannin et par les auteurs de « l'enquête Périodiques » du CNRS respectivement. On remarque tout d'abord que la classification en trois rangs obéit à des critères différents selon les classements, de telle sorte qu'aucun consensus méthodologique ne se dégage en termes de critères de classification. Les classements eux-mêmes sont fortement hétérogènes : en science politique, seules 11 revues sont présentes dans les deux classements comparés, dont huit uniquement à rang égal. En sociologie/démographie, on compte 26 accords de classement et 17 divergences lorsque la comparaison est possible.
Fichier principal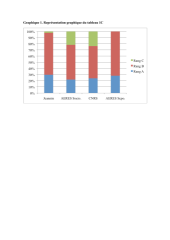 Briatte_AERES-BMS4-Annexe.pdf (72.27 Ko)
Télécharger le fichier
Briatte_AERES-BMS4.pdf (179.12 Ko)
Télécharger le fichier
briatte_aeres_rangs.xls (25.5 Ko)
Télécharger le fichier
briatte_aeres_scpo.xls (30.5 Ko)
Télécharger le fichier
Origin : Files produced by the author(s)
Origin : Files produced by the author(s)