Le lac du Bourget (Savoie, France) à l'Âge du Bronze : végétation, impacts anthropiques et climat
Lake Bourget (Savoie, France) during the Bronze Age: vegetation, anthropogenic impacts and climate Pollen analyses performed on three archaeological sites located on the east shore of Lake Bourget (Savoie, France) provide a detailed record of human impacts and vegetation history during the Bronze Age. The end of the Neolithic period and the entire early Bronze Age are characterized in pollen diagrams by a discreet settlement around Lake Bourget and low human impact on the forested landscape, in spite of climatic improvement. The middle Bronze Age, contemporaneous of a climatic reversal, is related to the rarefaction of anthropogenic indicators. A new human impact occurs at the beginning of the late Bronze Age. A brief high lake level, correlated to the abandonment of agropastoral activities, appears during the more intensive occupation at the end of the late Bronze Age. The beginning of the Iron Age is related to a new abandonment of the shore. In the last part of this paper, pollen analyses are correlated to the results of lake levels recorded and molecular markers preserved in a deep lacustrine core.
L'étude de trois analyses polliniques effectuées sur les sites archéologiques de Chindrieux (Châtillon) et de Tresserve (Le Saut de la Pucelle), sur la rive est du lac du Bourget (Savoie, France) permet de reconstituer l'histoire de la végétation et des impacts anthropiques au cours de la période de l'Âge du Bronze. La fin du Néolithique et le Bronze ancien sont caractérisés par une occupation discrète des alentours du Bourget et donc par un faible impact anthropique sur l'environnement très forestier, en dépit d'un climat plutôt favorable. La période du Bronze moyen, contemporaine d'une péjoration climatique, correspond à la quasi-disparition de tout impact anthropique. Le début du Bronze final voit le retour toujours discret des activités humaines, activités qui s'amplifient soudainement au cours de la fin du Bronze final. On observe alors une tripartition des événements : une courte phase de transgression lacustre et de déprise agricole scinde la fin du Bronze final. Le début de l'Âge du Fer correspond à une nouvelle déprise agricole. Dans une dernière partie, les résultats des analyses paléoclimatiques et chimiques obtenues sur un forage profond au milieu du lac sont intégrés aux résultats polliniques.
Fichier principal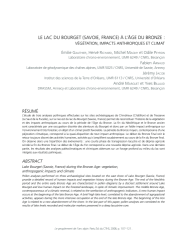 Bourget_Bronze.pdf (735.67 Ko)
Télécharger le fichier
Origin : Explicit agreement for this submission