Entrepreneur et croissance économique : développements récents
The object of this article is to present the important literature that developed on the border of economic sciences and management around the role of the entrepreneur in the economic growth, and to discuss its main conclusions. The message of these works is simple: without entrepreneur, no or less economic growth. The first section shows why the entrepreneur is at the origin of growth. The heart of the process of creation of wealth is the individual who identifies a profit, i.e. a mutually advantageous exchange. This profit can be a profit of innovation, arbitration or speculation. In all the cases, it is the act of identification that carries growth. The second section shows that innovation is indeed an important cause of the growth of the developed countries but that this model of growth from the top should not be generalized to all countries. Imitation is also a source of growth. The third section presents various empirical tests that accredit the majority of the theoretical proposals exposed in the preceding sections.
L'objet de cet article est de présenter l'importante littérature qui s'est développée à la frontière des sciences économiques et de gestion autour du rôle de l'entrepreneur dans la croissance économique et d'en discuter les conclusions. Le message de ces travaux est simple : sans entrepreneur, pas ou moins de croissance économique. La première section montre pourquoi l'entrepreneur est à l'origine de la croissance. Le cœur du processus de création de richesse est l'individu qui identifie un profit, c'est-à-dire un échange mutuellement avantageux. Ce profit peut être un profit d'innovation, d'arbitrage ou de spéculation. Dans tous les cas, c'est l'acte d'identification qui est porteur de croissance. La deuxième section montre que l'innovation est effectivement une cause importante de la croissance des pays développés mais qu'il ne faut pas généraliser ce modèle de croissance par le haut à l'ensemble des pays. L'imitation est aussi une source de croissance. La troisième section présente un certain nombre de travaux empiriques qui accréditent la plupart des propositions théoriques exposées dans les sections précédentes.
Fichier principal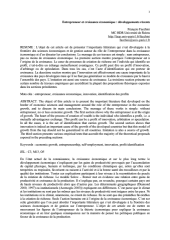 REIFACCHINI02.pdf (442.7 Ko)
Télécharger le fichier
Origin : Files produced by the author(s)