Continuing Vocational training. The Fongecif, territories of equity or of equality in access to continuing training?
Les Fongecif, territoires d'équité ou d'égalité pour la formation continue ?
The Fongecif, territories of equity or of equality in access to continuing training ?
The CIF (Congé individuel de formation) is conceived as an individual and collective labor law. In each region, agencies were created to manage this device : the Fongecif. But, what are those regional declensions of welfare policy ? How does Fongecif reconcile constraint of rarity and principle of equality of all in front of the law ? Some are both questions which this article tries to answer. If this right is acquired for all the eligible employees, it is constrained by funding requests. Beyond a formal legal equality, the ways to mobilize the idea of justice seem different in the regions, with two main selection practices which reflect two ways of thinking equality. Fongecif appear, therefore, as places of production of specific norms and their practices and strategies give a particular meaning to the national right. As such, they seem contribute to the creation of territorial disparities in the access of the employees to this individual training right.
"Le CIF est conçu comme un droit social à la fois individuel et collectif. Dans chaque région, des organismes de gestion de ce congé ont été créés : les Fongecif. Mais alors, quelles sont les déclinaisons régionales de ce dispositif national de politique sociale ? De quelle manière les Fongecif concilient-ils contrainte de rareté et principe d'égalité de tous devant la loi ? Telles sont les deux questions auxquelles cet article tente de répondre. En effet, si ce droit est acquis pour tous les salariés éligibles, il s'applique sous contrainte de rareté de financement. Au-delà d'une égalité juridique formelle présente dans les textes nationaux, les manières de mobiliser l'idée de justice semblent alors différentes selon les régions. Deux pratiques principales de sélection sont observables qui correspondent, semble-t-il, à deux manières de penser l'égalité. Les Fongecif apparaissent donc comme des lieux de production de normes spécifiques qui par leurs pratiques et leurs stratégies donnent le sens du droit. À ce titre, ils peuvent contribuer à la création d'inégalités territoriales dans l'accès des salariés à ce droit individuel."
Fichier principal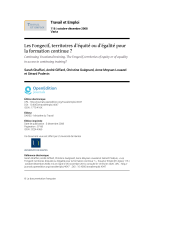 travailemploi-4047.pdf (316.54 Ko)
Télécharger le fichier
Origin : Publisher files allowed on an open archive