L'alpha-taxonomie au XXI e siècle : Inventorier le Vivant à l'ère du numérique et de la 6e extinction.
Halfway through a process of modernization undertaken some twenty years ago, the challenges facing contemporary α-taxonomy are multiple, and are as much quantitative (accelerating the inventory of living organisms) as qualitative (having reliable species hypotheses). They consist, among others, of: appropriation of concepts and techniques developed in evolutionary biology; standardization / objectivization / formalization of decision-making processes (when to describe a species hypothesis?); integration of new types of data (genome, transcriptome, Ctscan); and development of adapted digital tools (interoperable and specimen-centered databases, tools dedicated to species delimitation, assessment of confidence in species hypotheses, etc.). The extent of these changes and those to come also highlights the need to revise and strengthen the epistemological basis on which this multi-secular branch of biology rests. Beyond my works on squamates systematics (mainly phylogenies and integrative revisions of tropical skinks), this dissertation will focus on my generalist contributions, i.e. those addressed to all practitioners regardless of their field of specialization. After a presentation of the different notions related to the α-taxonomy and a historical overview intended to better measure the extent of the paradigm shift this discipline is going through, a detailed synthesis of my contributions to methodological or technical questions will be presented. They are addressing, among others, issues related to taxonomic data (characterization, management, sharing and integration) and to the objective comparison of partitions resulting from different species delimitation analyses.
À mi-parcours d'un processus de modernisation entrepris il y a une vingtaine d'années, les défis à relever par l' α-taxonomie contemporaine sont multiples, et autant d'ordre quantitatifs (accélérer l'inventaire du vivant) que qualitatifs (disposer d'hypothèses d'espèces robustes). Ils consistent, entre autres : en une appropriation des concepts et des techniques développées en biologie évolutive; en une standardisation / objectivisation / formalisation des processus décisionnels (quand décrire une hypothèse d'espèce?); en l'intégration de nouveaux types de données (génome, transcriptome, Ctscan); et en le développement d'outils numériques adaptés (bases de données interopérables et centrées sur les spécimens, outils dédiés à la délimitation d'espèce, à l'évaluation de la confiance en les hypothèses d'espèce…). L'ampleur de ces changements et de ceux à venir mets également en exergue la nécessité de réviser et de renforcer le socle épistémologique sur lequel repose cette branche pluriséculaire de la biologie. Au-delà de mes travaux de systématique appliqués aux squamates (principalement des phylogénies et des révisions intégratives de scinques tropicaux), le présent mémoire met l'accent sur mes contributions généralistes, c'est-à-dire celles s'adressant à l'ensemble des praticiens, indépendamment de leur domaine de spécialisation. Après une présentation des différentes notions attenantes à l'α-taxonomie et un survol historique destiné à mieux mesurer l'ampleur du changement de paradigme que la discipline traverse, sera présenté une synthèse détaillée de mes contributions à des questions méthodologiques ou techniques. Celles-ci abordent, entre autres, des problématiques relatives aux données taxonomiques (caractérisation, gestion, partage et intégration) et à la comparaison objective des partitions résultant de différentes analyses de délimitations d'espèces.
Fichier principal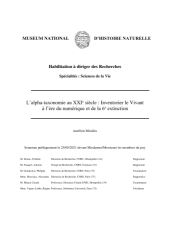 HDR Miralles - 05062021.pdf (4.17 Mo)
Télécharger le fichier
Origin : Files produced by the author(s)