Contribution aux Protocoles MAC et à la Localisation des noeuds dans les Réseaux de Capteurs Sans Fil et l'Internet des Objets
Alors que le domaine des réseaux sans fil (Réseaux de Capteurs Sans Fil, réseau de collecte de l'Internet des Objets) connaît un nouveau bouleversement de part les nombreuses technologies émergentes (Ultra-Narrow Band, Ultra-Wide Band...), la recherche en Réseaux et Protocoles s'ouvre à de nouvelles méthodologies et se donne de nouveaux objectifs. L'analyse de performances par maquettage/testbed est désormais une pratique répandue, qui peut générer des résultats très pertinents si elle est pratiquée convenablement ; de nouveaux challenges, comme la localisation des nœuds mobiles directement par l'empilement protocolaire, peuvent également être envisagés. Les travaux de recherche présentés dans cette HDR portent d'une part sur les couches d'accès au médium (protocoles MAC à rendez-vous, économie d'énergie, synchronisation, déterminisme d'accès au médium) et d'autre part sur les « protocoles de Ranging », qui permettent de fournir des informations de distance entre noeuds sans fil par mesure du temps de vol radio, permettant de les localiser. Une des particularités de ces travaux est de toujours envisager une évaluation des performances des protocoles proposés par prototypage réel C'est ainsi que plusieurs outils matériels et logiciels ont été développés pour réaliser les études de performances dans des conditions adéquates (maîtrise de l'environnement de test, reproductibilité), jusqu'à une instanciation de certains de ces travaux sur des cas d'usage réels, dans le contexte des habitats intelligents.
We are currently witnessing a major upheaval in the scientific field of Wireless Networks (Wireless Sensor Networks, Device-Layer of the Internet of Things) due to the many emerging communication technologies (Ultra-Narrow Band, Ultra-Wide Band...). The scientific community is opening up tonew methodologies and is setting new objectives. Testbeds are commonly used for performance analysis of the new networking protocols and can generate relevant results if the testbed is properly used. New challenges can also be considered - such as locating mobile nodes by the only use of the protocol stack. The research work presented in this HDR deals on the one hand with Medium Access Control protocols (MAC protocols based on rendez-vous, energy saving, synchronisation, deterministic MAC protocol) and on the other hand with Time-of-Flight-based ranging protocols, enabling the localisation of mobile wireless nodes. The present work has always been evaluated by actual prototyping/testbed. Thus several hardware and software tools were developed to carry out the performance studies under adequate conditions (test environment control, reproducibility) in order to obtain the best results. Moreover, a part of the work has been studied on real use cases in the context of smart homes.
Fichier principal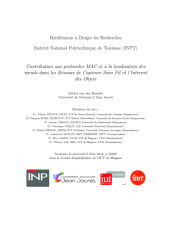 HDR_AVDB.pdf (13.75 Mo)
Télécharger le fichier
Origin : Files produced by the author(s)