The defence of Cyprus under Franks domination from 1192 to 1489.
La défense de l'île de Chypre sous la domination franque de 1192 à 1489.
After settling on the island of Cyprus as the suzerain of the land in 1192, Guy de Lusignan first actions were to consolidate his authority and establish strong defences on his new holding. Cyprus has always been coveted and fought for: its geographical situation in the Mediterranean sea as well as its insularity provided a natural protection in front of its neighbours, but it never stopped the many attacks and raids. Ruling by the Byzantine empire until the VIIth century, the island is conquered by the Arabs in 645, and won back in 965 by Nicéphore II Bocas. Wars will be fought on the island during the VIIth century, but Cyprus will also be torn by revolts, particularly during the XIth century. Cypriots, Greeks for the most part, riot as a testimony of the bonds they feel for Byzantium and resent Isaac Comnène's usurpation in 1184. He will be the main cause of the war that will see Cyprus fall under Latin dominion in 1192. Even if the crusaders had already been using the island as a port of call since the XIth century, the island only became a part of the occidental ...
Après son installation à Chypre en 1192 en tant que suzerain de l'île, Guy de Lusignan centralise l'autorité militaire, afin d'instaurer la défense de sa nouvelle possession. En effet, l'île de Chypre a toujours fait l'objet de convoitises et de conquêtes. Poste avancé en Méditerranée, l'insularité de Chypre lui confère une protection naturelle face à ses voisins, ce qui ne l'empêche pas de subir des raids et des attaques de la part de ses voisins continentaux. Sous la souveraineté de l'Empire byzantin jusqu'au VIIe siècle, elle est conquise en 645 par les Arabes, puis récupérée en 965 par Nicéphore II Phocas. L'île accueille des guerres sur son sol au VIIe siècle, mais également des révoltes urbaines, notamment au XIe siècle. Ces révoltes isolées sont dues pour la plupart à l'éloignement de l'Empire. Les Chypriotes, Grecs pour la majorité d'entre eux, manifestent leur attachement à Byzance et rejettent de ce fait l'usurpation d'Isaac Comnène en 1184.
Fichier principal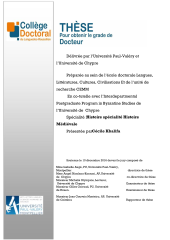 59781_KHALIFA_2016_diffusion.pdf (7.63 Mo)
Télécharger le fichier
Origin : Files produced by the author(s)