CSR and public service : oppositions, juxtaposition and articulations. The France Telecom case.
RSE et service public : oppositions, juxtapositions et articulations. Le cas de France Télécom
Today, Corporate Social Responsibility and Public Service logics, claiming to serve the general interest, are spreading within the management of for-profit public service networks in France; networks that have been historically privatized or on the way to becoming. The aim of this research is to bring an understanding to how these logics are opposed, juxtaposed and articulated in a managerial context that is dominated by a logic of maximized shareholder value. In this perspective, we rely on the notion of "device", as employed by Foucault, and the actor-network theory. We focus on the France Telecom company (FT) and its CSR "device(s)". We also use comparative insights drawn from additional case studies. Our results indicate that the official CSR "device" for FT is disconnected from public service logics, placing more importance on short term logics. Its priority is risk anticipation and communication, demonstrating FTs preference for the CSR Business Case. Nevertheless, in a decentralized and autonomous way, innovative CSR initiatives progressively emerge from within R&D, strategic marketing functions and strategic partnerships with key suppliers. These initiatives target profitability with environmental protection concerns, public service by proxy (providing benefits to utility services to help them better perform their missions) and digital divide overtake. However, in the social area, the FT CSR policy is embodied primarily through internal policies of diversity as well as control of the supply chain which was put in place to avoid major human rights violations. These policies seem to hardly touch the heart of the employment relationship, unless counter-powers seize the opportunity to do so, as shown through the case study concerning the International Framework Agreement on the fundamental social rights at work in FT.
Aujourd'hui, RSE et Service Public dont les logiques prétendent servir l'intérêt général imprègnent le management des grands services publics de réseaux historiques français privatisés ou en voie de l'être. La recherche présentée vise à comprendre comment ces logiques s'opposent, se juxtaposent, et s'articulent concrètement dans un tel contexte managérial dominé par la logique de Maximisation de la Valeur pour l'Actionnaire. Pour ce faire, nous mobilisons le concept de dispositif défini par Foucault ainsi que la sociologie de l'acteur réseau. Nous nous centrons sur le cas de l'entreprise France Télécom (FT) et de son dispositif RSE en y apportant quelques éclairages comparatifs. Nos résultats indiquent que chez FT le dispositif RSE officiel se déploie en se détachant des logiques de Service Public et en privilégiant le Business Case. Il poursuit prioritairement des objectifs de communication et d'anticipation des risques. Mais de manière décentralisée et autonome, émergent progressivement des initiatives RSE innovantes qui reposent sur la R&D, le Marketing stratégique et les partenariats avec les principaux fournisseurs. Elles visent la protection de l'environnement, le Service Public par procuration (en fournissant aux services publics des prestations leur permettant de mieux assurer leurs missions), et le dépassement de la fracture numérique, en même temps que la profitabilité. Dans le domaine social cependant, la RSE s'incarne surtout à travers des politiques de diversité (en interne) et de contrôle de la chaine d'approvisionnement pour éviter des violations majeures des droits de l'homme, ne touchant guère le cœur de la relation d'emploi, à moins que les contre-pouvoirs ne s'en emparent, comme nous le montrons dans l'étude du cas de l'Accord Cadre International sur les droits sociaux fondamentaux au travail de FT.
Fichier principal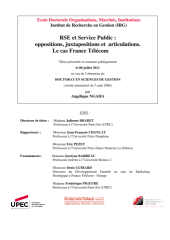 Thèse.pdf (2.82 Mo)
Télécharger le fichier
Origin : Files produced by the author(s)