On-line path trajectory generation for Open Computerized Numerical Control Machine in a STEP-NC advanced programming environment
Génération de Trajectoires "On-line" pour Machine à Commande Numérique Ouverte dans un Environnement de Programmation Avancée STEP-NC
These research works aim to extend the possibilities for CNC machine tool programming allowing generation of on-line trajectories. The developed approach begins with an analysis of current programming evolution and limitations of legacy CNC. This analysis argues a lack and need for control optimization by taking into account some geometric data during the machining of a part. The choice is then focused on the use of open architecture CNC (OCNC), for which the criteria and integration on an industrial-size machine are elaborate. The developments made on the opportunities and entry points of the OCNC allow the validation and the implementation of corrective actions in real time, using an experimental study for measuring and disturbance of position of a workpiece being machined. On this basis, we structure the concept of an extended CNC (XCNC) by the use of the STEP-NC standard, which especially broadens the scope of corrective actions. Therefore, a study is made on the evolution of the manufacturing plant and CNC environment mutations, focusing on the impact of the XCNC throughout the manufacturing numerical chain.
Les travaux présentés portent sur la programmation des machines-outils à commande numérique (MOCN) et la génération de trajectoires on-line. La démarche mise en œuvre débute par une analyse de l'évolution de la programmation actuelle et des limitations des commandes numériques propriétaires. Cette analyse fait valoir un manque et un besoin d'optimisation de la commande par la prise en compte de données géométriques durant la mise en forme d'une pièce. Le choix se porte alors sur l'utilisation d'une commande numérique ouverte (CNO) dont la définition et l'intégration sur une machine de type industriel sont détaillés. Les développements effectués sur les possibilités et points d'entrées de la CNO permettent la validation et la mise en œuvre d'actions correctives en temps réel, à l'aide d'une étude expérimentale portant sur la mesure et la perturbation de la position d'une pièce en cours d'usinage. Sur cette base, nous structurons le concept d'une CN étendue, par l'utilisation du standard de programmation STEP-NC, qui permet notamment d'élargir la portée des actions correctives. Une étude est alors effectuée sur l'évolution de l'usine manufacturière et les mutations de l'environnement des MOCN, en s'intéressant à l'impact de la CN étendue tout au long de la chaîne numérique.
Fichier principal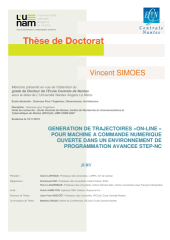 These_de_Doctorat_Vincent_SIMOES_2015.pdf (7.55 Mo)
Télécharger le fichier
Comment : Thèse de Doctorat soutenue le 10/11/2015 par Vincent SIMOES.