Social capitalism on Twitter : a survey.
Analyse du capitalisme social sur Twitter
Bourdieu, a sociologist, defines social capital as : "The set of current or po- tential ressources linked to the possession of a lasting relationships network". On Twitter, the friends, followers, users mentionned and retweeted are considered as the relationships network of each user, which ressources are the chance to get relevant information, to be read, to satisfy a narcissist need, to spread information or advertisements. We observe that some Twitter users that we call social capitalists aim to maximize their follower numbers to maximize their social capital. We introduce their methods, based on mutual subscriptions and dedicated hashtags. In order to study them, we first describe a large- scale detection method based on their set of followers and followees. Then, we show with an automated Twitter account that their methods allow to gain followers and to be ret- weeted efficiently. Afterwards, we bring to light that social capitalists methods allows these users to occupy specific positions in the network allowing them a high visibility. Furthermore, these methods make these users influent according to the major tools. We thus set up a classification method to detect accurately these user and produce a new influence score.
Le sociologue Bourdieu définit le capital social comme : "L'ensemble des ressources actuelles ou potentielles qui sont liées à la possession d'un réseau durable de relations". Sur Twitter, les abonnements, mentions et retweets créent un réseau de relations pour chaque utilisateur dont les ressources sont l'obtention d'informations pertinentes, la possibilité d'être lu, d'assouvir un besoin narcissique, de diffuser efficacement des messages. Certains utilisateurs Twitter -appelés capitalistes sociaux- cherchent à maximiser leur nombre d'abonnements pour maximiser leur capital social. Nous introduisons leurs techniques, basées sur l'échange d'abonnements et l'utilisation de hashtags dédiés. Afin de mieux les étudier, nous détaillons tout d'abord une méthode pour détecter à l'échelle du réseau ces utilisateurs en se basant sur leurs abonnements et abonnés. Puis, nous montrons avec un compte Twitter automatisé que ces techniques permettent de gagner efficacement des abonnés et de se faire beaucoup retweeter. Nous établissons ensuite que ces dernières permettent également aux capitalistes sociaux d'occuper des positions qui leur accordent une bonne visibilité dans le réseau. De plus, ces méthodes rendent ces utilisateurs influents aux yeux des principaux outils de mesure. Nous présentons donc pour terminer une méthode de classification supervisée pour détecter avec précision ces utilisateurs et ainsi produire un nouveau score d'influence.
Fichier principal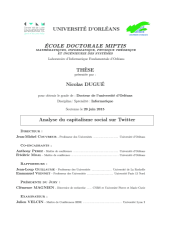 main.pdf (10.01 Mo)
Télécharger le fichier
THESE-nicolas-dugue.pdf (10 Mo)
Télécharger le fichier