L'État outre-mer : la construction sociale et institutionnelle d'une spécificité ultramarine
The "specificity" of the French overseas territories is both a common wisdom and a shared belief among the various actors involved in politics and the public policies displayed in these regions. However, the term "overseas" does not designate an objective category. It is the result of a historical and social construction stemming from a variety of social and political mobilizations. In the article, the authors aim to show the institutional construction of a public policy category and its relations to an elite social space they label "the State overseas". They argue that such a category has grown more autonomous in recent years and that its capacity to defend and represent the interests of the French overseas territories has subsequently strengthened. Furthermore, while there is a general agreement regarding their specificity and exceptionality, the authors argue that both the frontiers and the content of public policies in these regions are still the results of classification and definition struggles.
La « spécificité » de l'Outre-mer est sans doute l'une des convictions les mieux partagées par les différents acteurs impliqués dans l'action publique à destination des régions concernées, à tel point que, invoquée sur les sujets les plus divers, elle est devenue l'approche essentielle par laquelle ils s'en saisissent. Pourtant, la catégorie « outre-mer », loin de constituer une réalité objective, est le résultat d'une construction historique et sociale issue de mobilisations plurielles. Dans cet article, notre objectif est tout d'abord de montrer la construction institutionnelle de cette catégorie d'action publique en lien avec un espace social élitaire que nous désignons comme « l'État outre-mer » et qui a vu tant son autonomie que sa capacité à porter les intérêts des régions d'Outre-mer se renforcer au fil des années. Il s'agit en outre de montrer qu'au-delà de l'accord général sur la spécificité et l'exceptionnalité des outre-mer, les contours et le contenu de l'action publique les concernant restent l'objet de luttes de définition et de classement.
Fichier principal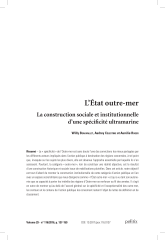 07.POX 116-Beauvallet-Celestine-Roger.pdf (489.74 Ko)
Télécharger le fichier
Origin : Files produced by the author(s)