Waziers, le Bas‑Terroir (Scarpe Plain, Northern France) : synthesis of studies on 2011‑2015 observations and evidence of a continuous sedimentary record from the end of the Saalian (MIS 6) to the Eemian Optimum (MIS 5e).
Waziers le Bas-Terroir (plaine de la Scarpe, nord de la France) : synthèse des études sur les observations 2011-2015 et mise en évidence d'un enregistrement sédimentaire continu de la fin du saalien (SIM 6) à l'optimum eemien (SIM 5e).
The Waziers Formation consists of a silty alluvial deposit topped by calcareous tuff and peat. It is preserved in a small palaeo- channel of the Scarpe-Scarbus river, recognised over several hundred metres long at the edge/entrance of the Scarpe river plain and dated to the end of the Saalian (SIM 6) and the Eemian (SIM 5e). The Waziers Formation was preserved by a later defluviation and the sealing by fluvio-aeolian deposits of the late Weichselian Pleniglacial (SIM 2). The synthesis of all the data and studies (lithology, palaeontology, geochronology, reconstruction of palaeotemperatures) provides a coherent picture of the evolution of the area since the end of the Saalian around 130,000 years ago to the end of the Weichselian Pleniglacial. At the base, sandy-gravelly (indicating dynamic flows) and then silty alluvium (Member 1) was deposited in the valley bottom at the end of the Saalian glacial period in a context of incipient forest reconquest. A water body then develops, allowing the sedimentation of a lacustrine chalk deposited in a Characeae marsh, followed by a peat bog (Member 2, ca. 1.5 m thick) in a forest context. A channelled stream still flows through the bog, at least intermittently, locally eroding and depositing silty alluvium. The lower part of Member 2 records the transition from the Saalian glacial (end of MIS 6) to the Eemian interglacial (beginning of MIS 5) in a context of continuous sedimentation with increasing organic content. The upper part of Member 2 records the Eemian climatic optimum in a typical peat facies, followed by the onset of climatic degradation. At the top of Member 2 (and that of the Formation) is the limit of a major erosion that did not allow the recording of the end of the Eemian interglacial. At the base of Member 3 (ca. 3 m thick) flows concentrated in deep gullies on frozen ground dismantle and rework the underlying deposits. Subsequently, flows (attributed to the Weichselian Pleniglacial) deposit a sheet of chalk gravels over the whole site in a wider active band (likely braiding). Most of Member 3 consists of fluvio-aeolian silty-sandy deposits and a thin terminal loessic deposit. The quality of the sedimentary record, with in particular continuous depo- sition at the time of the climatic transition from the Saalien to the Eemian, and the abundance of palaeontological elements (wood and plant macro-remains, macro- and meso-fauna, microfauna, avifauna, malacofauna...) in the Eemian deposits ensure the Waziers Formation is an exceptional testimony for the palaeoenvironmental and palaeoclimatic reconstructions. The presence of levels testying to recurrent human occupations in Members 1 and 2 (with isolated flakes, heaps of debitage, traces of anthropic actions on fauna) make this site and sequence a reference for the understanding of the human settlement dynamics from the MIS 6 (Saalian) to the MIS 5e (Eemian) in Northern France but also broadly in North-Western Europe.
La Formation de Waziers est constituée d'un dépôt alluvial limoneux surmonté de tuf calcaire et de tourbe. Elle est conservée dans un petit paléo-chenal de la rivière Scarpe-Scarbus, reconnu sur plusieurs centaines de mètres de long à l'entrée de la plaine de la Scarpe et daté de la fin du Saalien (SIM 6) et de l'Eemien (SIM 5e). La Formation de Waziers a été préservée à la faveur d'une défluviation ultérieure à son dépôt puis de son scellement par des dépôts fluvio-éoliens de la fin du Pléniglaciaire weichselien (SIM 2). La synthèse de l'ensemble des données et études (lithologie, paléontologie, géochronologie, reconstitution des paléotem- pératures) fournit une image cohérente de l'évolution de la zone depuis la fin du Saalien vers 130 000 ans environ jusqu'à la fin du Pléniglaciaire weichselien. À la base, les alluvions sablo-graveleuses (témoignant d'écoulements dynamiques) puis limoneuses (Membre 1) se déposent dans le fond de vallée à la fin du glaciaire saalien dans un contexte d'amorce de reconquête forestière. Un plan d'eau se développe ensuite, permettant le dépôt d'une craie lacustre dans un marais à Characées puis d'une tourbière (Membre 2, env. 1,5 m d'épaisseur) dans un contexte forestier. Un cours d'eau chenalisé circule encore dans la tourbière, au moins par intermittence, érodant et déposant localement des alluvions limoneuses. La partie inférieure du Membre 2 enregistre la transition du glaciaire Saalien (fin SIM 6) à l'Interglaciaire eemien (début SIM 5e) dans un contexte de sédimentation continue de plus en plus organique. La partie supérieure du Membre 2 enregistre l'optimum climatique eemien dans un faciès de tourbe typique, puis l'amorce d'une dégradation climatique. Au toit du Membre 2 (et celui de la Formation) est observée la limite d'une érosion majeure qui n'a pas permis l'enregistrement de la fin de l'Interglaciaire eemien. À la base du Membre 3 (env. 3 m d'épaisseur), des écoule- ments concentrés dans des ravines profondes sur sol gelé démantèlent et remanient les dépôts sous-jacents. Ensuite, des écoulements (attribués au Pléniglaciaire weichselien) déposent une nappe de graviers de craie sur l'ensemble du site dans une bande active plus large (probable tressage). La majeure partie du Membre 3 est constituée de dépôts limono-sableux fluvio-éoliens et d'un mince dépôt loessique terminal. La qualité de l'enregistrement sédimentaire de la formation de Waziers, avec notamment un dépôt continu au moment de la transition climatique du Saalien à l'Eemien, et l'abondance des éléments paléontologiques (bois et macrorestes végétaux, macro et méso-faune, microfaune, avifaune, malacofaune…) dans les dépôts eemiens font de celle-ci un témoin exceptionnel pour les recons- titutions paléoenvironnementales et paléoclimatiques de cette période. La présence de niveaux témoignant d'occupations humaines récurrentes dans les Membres 1 et 2 (éclats isolés, amas de débitage, traces d'actions anthropiques sur faune) font de ce site et de cette séquence une référence pour la compréhension des dynamiques de peuplement humain entre le SIM 6 (Saalien) et le SIM 5e (Eemien) dans le Nord de la France et plus largement dans le Nord-Ouest de l'Europe.
Fichier principal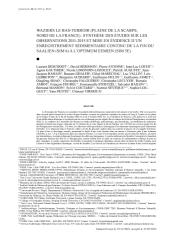 Deschodt et al., 2023_Waziers QUATERNAIRE.pdf (14.93 Mo)
Télécharger le fichier
Origin : Publisher files allowed on an open archive