Testing the 2020 European Seismic Hazard and Risk Models using observations from the 2019 Le Teil earthquake
Probabilistic seismic hazard and risk models consist of components, which may be tested individually, however testing these models as a whole is challenging due to lack of recognized procedures. Estimations made with other models, and observations from past earthquakes lend themselves to testing the components for ground motion modelling and for damage estimation. Here we are using observations of damages caused by the Le Teil 2019 earthquake, third-party estimations of macroseismic intensity for this seismic event, and ShakeMap analyses in order to conduct tests on estimations made with scenario simulations using components of the 2020 Euro-Mediterranean Seismic Hazard Model and the European Seismic Risk Model. In some scenarios, the models forecast shaking and damage consistent with the observations, while major divergences from observations are attributed to factors external to the tested models, such as the location of the hypocenter.
Les modèles probabilistes pour l'aléa et le risque sismique se consistent de composants, qui peuvent être testés individuellement, mais la validation de ces modèles dans leur intégralité est un défi à cause du manque de méthodes reconnues. Ici nous utilisons des observations des dommages provoqués par le séisme du Teil en 2019, des estimations de tiers pour l'intensité macrosismique, ainsi que des analyses ShakeMap pour tester des estimations faites avec des simulations des scenarios à l'aide du 2020 Euro-Mediterranean Seismic Hazard Model et du European Seismic Risk Model. Dans certains scenarios, les modèles prédisent des intensités et des dommages en accord avec les observations. Quant aux diverges majeurs à partir des observations, elles sont attribuées aux facteurs non inclus dans les modèles testés, comme la position de l'hypocentre.
Fichier principal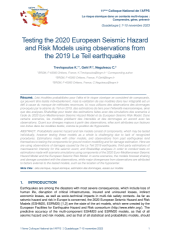 colloque_afps2023_abstract_efehr_20230302.pdf (482.77 Ko)
Télécharger le fichier
Origin : Files produced by the author(s)
Licence : CC BY NC SA - Attribution - NonCommercial - ShareAlike