Cooperation on Readmission in the Euro-Mediterranean Area and Beyond: Lessons Learned and Unlearned
The three contributions contained in this study have opted to go beyond the recurrent reference to reluctance and uncooperativeness by shedding light on the agency of non-EU countries located in the Southern Mediterranean and in Africa. They interrogate the various consequences of cooperation on readmission as well as the factors that have fed into the expansion of a system having detrimental implications for human rights observance and states' accountability, as well as unintended effects on international cooperation. The common denominator shared by the authors lies in questioning the disproportionate policy attention to leverage, operability and effectiveness when addressing cooperation on readmission with non-EU countries. They propose rethinking the boundaries of the problem by emphasising that asymmetrical patterns of cooperation on readmission are not only based on unequal costs and benefits. Despite their asymmetry, they also remain meaningful for the state actors involved. This is a fact that has significantly shaped the relations between Southern Mediterranean countries and their European counterparts as well as between Southern Mediterranean countries and their African counterparts. Consequently, we need to bear in mind this grammar. Sometimes, interactions can be conducive to reinforced interdependence, which, in turn, can lead to new unintended consequences and challenges. As shown in this study, cooperation on readmission in the Mediterranean and African contexts is a case in point.
Les contributions contenues dans cette étude se placent délibérément au-delà de la référence récurrente au manque de coopération en matière de réadmission des pays situés au sud de la Méditerranée et en Afrique. Elles analysent les multiples facteurs qui ont soutenu l'expansion d'un système de coopération ayant des implications non seulement sur le respect des droits humains mais également sur les rapports d'interdépendance altérés entre les pays du sud et du nord de la Méditerranée. L'objectif commun partagé par les auteurs est de s'interroger sur la volonté affichée des pays européens d'exercer un effet de levier majeur sur les pays méditerranéens et africains, alors que ces derniers sont aujourd'hui à même de capitaliser sur leur position stratégique dans le cadre de la gouvernance migratoire afin de défendre leurs propres intérêts et priorités. Les auteurs proposent de repenser les limites du problème en soulignant que les rapports de coopération asymétriques en matière de réadmission ne reposent pas uniquement sur des coûts et des avantages inégaux. Malgré leur asymétrie, ces rapports acquièrent une dimension politique qui fait sens pour tous les acteurs étatiques concernés. La coopération en matière de réadmission dans les relations euroméditerranéen et euro-africaines constitue un bon exemple.
Fichier principal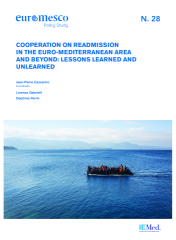 EUROMESCO Policy-Study - Cooperation on readmission.pdf (6.4 Mo)
Télécharger le fichier
Origin : Files produced by the author(s)
Licence : Public Domain