Les primates non-humains et la recherche biomédicale en France
Non-human primate (NHP) models play a strategic role in the acquisition of fundamental knowledge in biology, but also in the development of new therapeutic and/or prophylactic strategies (Preclinical Research & Development). Major French research institutes as well as many French universities support research that benefits from these models. This dense national network of internationally recognized competence forms an epicenter for this type of research in Europe. France's position in this area is however under the pressure of very strong international strategic development, while being in a very problematic state of dependence on extra-European resources. Without a global commitment to investment and planning, France's positioning cannot be maintained. This document does the inventory of French biomedical research using non-human primates, and proposes a strategy to address the scientific and health issues we face. These focus on issues of resources, research infrastructure, and ethics.
Les modèles animaux primates non-humains (PNH) tiennent une place stratégique dans le parcours d'acquisition des connaissances fondamentales en biologie mais aussi dans celui du développement de nouvelles stratégies thérapeutiques et/ou prophylactiques (Recherche & Développement précliniques). Les grands instituts de recherches français ainsi que de nombreuses universités françaises soutiennent des recherches qui bénéficient de ces modèles. Ce réseau national dense et de compétence internationalement reconnue forme un épicentre pour ce type de recherche en Europe. Le positionnement de la France dans ce domaine est toutefois sous la pression d'un très fort développement stratégique international, tout en étant dans un état de dépendance à des ressources extra-européennes très problématique. Sans une volonté globale d'investissement et de planification, le positionnement de la France ne pourra être maintenu. Ce document fait l'état des lieux de la recherche française biomédicale utilisant les primates non-humains, et propose une stratégie pour relever les enjeux scientifiques et sanitaires auxquels nous faisons face. Ceux-ci sont centrés sur les questions de ressources, d'infrastructures de recherche, et d'éthique.
Fichier principal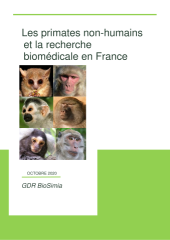 BioSimia livre blanc_2020.pdf (1.51 Mo)
Télécharger le fichier
Origin : Files produced by the author(s)