Conserver, exposer et valoriser les armes de guerre : le rôle initiateur du musée d'Artillerie (1796-1905)
From 1797 to 1905, the Musée d Artillerie, one of the forerunners of the Musée de l'Armée, collected, preserved, studied and presented to its visitors various objects relating to military heritage: weapons of all kinds, armours, emblems, historical souvenirs and archaeological remains. As an establishment under the French Artillery Directorate, its primary mission is to preserve the memory and evolution of armaments for the benefit of the improvement and experimentation work of artillery officers. However, its revolutionary origins, on the one hand, and the appetite for archaeology of its various curators, on the other, have led it to preserve these ecle ctic collections. In 1905, thanks to more than a century of work, he bequeathed nearly 14,000 objects to the Musée de l'Armée, including most of the pieces from the Garde-Meuble de la Meuble de la Couronne and the eighteenth and nineteenth century firearms that are prepreserved there today.
De 1797 à 1905, le musée d'Artillerie, l'un des ancêtres du musée de l'Armée, collecte, conserve, étudie et présente à ses visiteurs différents objets relevant du patrimoine militaire : armes de toutes sortes, armures, emblèmes, souvenirs historiques ou encore vestiges archéologiques. Établissement relevant de la direction de l'Artillerie, il a avant tout pour mission de conserver la mémoire et l'évolution de l'armement au profit des travaux d'amélioration et d'expérimentation des officiers d'artillerie. Toutefois, son origine révolutionnaire, d'une part, et l'appétence pour l'archéologie de ses différents conservateurs, d'autre part, l'ont conduit à conserver ces fonds éclectiques. En 1905, grâce à plus d'un siècle de travail, il lègue près de 14 000 objets au musée de l'Armée, parmi lesquels la majorité des pièces provenant du Garde-Meuble de la Couronne et des armes à feu du XVIIIe et XIXe siècle qui y sont aujourd'hui conservées.
Fichier principal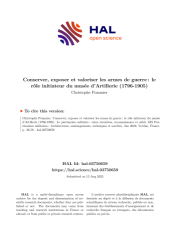 Mosaique-19-final-38-58.pdf (1.71 Mo)
Télécharger le fichier
Origin : Files produced by the author(s)