Floods in housing estate : some experimental data
The water cycle can be affected by violent events such as earthquakes, tsunamis, floods, ... In France, 17 millions of inhabitants are exposed to flood risk. One challenge during floods is to be able to access to people refugee over buildings. In order to investigate the hydraulic context generated by the grouped obstacles representative of a submerged housing estate, a preliminary experimental study was conducted. We experimentally study the flow in the presence of rows of macro-roughnesses representative of a submerged housing estate, and this for situations representing both current and more intense floods. After presenting the experimental configurations, the experimental results are given and discussed. The first conclusions are completed by the perspectives.
Des millions d'habitants sont exposés au risque d'inondation. L'une des difficultés lors des inondations est de pouvoir accéder aux personnes réfugiées au-dessus des bâtiments. Afin d'étudier le contexte hydraulique généré par les obstacles groupés représentatifs d'un lotissement submergé, une étude expérimentale préliminaire a été menée. Nous étudions expérimentalement l'écoulement en présence de rangées de macro-rugosités représentatives d'un lotissement submergé, et ce pour des situations représentant des crues courantes et plus intenses. Après avoir présenté les configurations expérimentales, les résultats expérimentaux sont donnés et discutés. Les premières conclusions sont complétées par les perspectives.
Fichier principal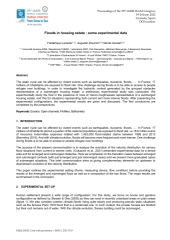 doc00034881.pdf (1.43 Mo)
Télécharger le fichier
Origin : Files produced by the author(s)