The invasive land flatworm Obama nungara in La Réunion, a French island in the Indian Ocean, the first report of the species for Africa
The land flatworm Obama nungara, a species originating from South America and already invasive in many European countries, is recorded from La Réunion, a French island in the Indian Ocean. This is the first record of O. nungara from this locality and also the first record of the species for Africa. Three specimens were collected in 2021 and 2022, in the communes of Saint Paul, Saint Joseph and Le Tampon, respectively; the three localities are widely separated, with two in the Western part and one in the Southeastern part of the island. This suggests that the species is already present in several locations in La Réunion, and it is likely that the species is already present since 2020. The specimen from Saint Paul had the same cox1 haplotype as specimens previously recorded from several countries of Europe; it is hypothesized that the species was imported from Europe, probably from France. We mapped climatic suitability of the species in La Réunion and found that O. nungara could potentially invade a large part of the island. One record was apparently associated with the transport of plates of travertine, a construction material which has numerous cavities thus suitable for the transport and survival of adult or cocoons of land flatworms.
Le Plathelminthe terrestre Obama nungara, une espèce originaire d'Amérique du Sud et déjà envahissante dans de nombreux pays européens, est signalé à La Réunion, une île française de l'Océan Indien. Ceci est le premier signalement d'O. nungara dans cette localité et aussi le premier signalement de l'espèce pour l'Afrique. Trois spécimens ont été collectés en 2021 et 2022, respectivement dans les communes de Saint Paul, Saint Joseph et Le Tampon ; les trois localités sont largement séparées, avec deux dans la partie occidentale et une dans la partie sud-est de l'île. Ceci suggère que l'espèce est déjà présente dans plusieurs localités de La Réunion, et il est probable que l'espèce soit déjà présente depuis 2020. Le spécimen de Saint Paul avait le même haplotype du cox1 que les spécimens précédemment récoltés dans plusieurs pays d'Europe ; nous faisons l'hypothèse que l'espèce a été importée d'Europe, probablement de France. Nous avons cartographié l'adéquation climatique de l'espèce à La Réunion et constaté qu'O. nungara pourrait potentiellement envahir une grande partie de l'île. Un signalement était apparemment associé au transport de plaques de travertin, un matériau de construction qui possède de nombreuses cavités, donc adapté au transport et à la survie des adultes ou des cocons de vers plats terrestres.
Fichier principal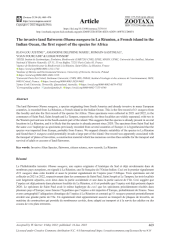 Justine et al. - Obama nungara in La Réunion - Zootaxa2022.pdf (2.1 Mo)
Télécharger le fichier
Origin : Publication funded by an institution