Lexical dearchaization in contemporary Russian
La désarchaïsation lexicale en russe contemporain
Лексическая дезархаизация в современном русском языке
In the process of lexical dearchaization, the lexical units previously being part of the passive vocabulary of speakers and therefore chronologically marked as archaic, cease to be felt as belonging to an earlier epoch and enter the active vocabulary of a large number of people. The present article, deals with lexical units which, in the dictionaries of the Soviet era, were labeled as archaic (and/or contained in their lexicographical definition the components like "in Tsarist Russia", "in Russia before 1917" and which are no longer so in contemporary dictionaries. We analyze the new paradigmatic and syntagmatic relations of the lexical units in question, the development of their polysemy, their new derivatives and, in certain cases, their graphic and grammatical adaptation.
Par le processus de désarchaïsation lexicale, les lexies auparavant marquées chronologiquement et, par conséquent, faisant partie du vocabulaire passif des locuteurs, cessent d'être senties comme appartenant à une époque antérieure et rentrent dans le vocabulaire actif d'un grand nombre d'individus. Dans cet article, nous nous intéressons aux unités lexicales qui, dans les dictionnaires de l'époque soviétique, étaient attestées comme vieillies (ou qui contenaient dans leur définition lexicographique les composantes comme « en Russie tsariste », « en Russie avant 1917 ») et qui ne le sont plus dans les dictionnaires contemporains. Nous analysons les nouveaux liens paradigmatiques et syntagmatiques des lexies en question, le développement de leur polysémie, leurs nouveaux dérivés et, dans certains cas, leur adaptation graphique et grammaticale.
В процессе лексической деархизации лексические единицы, ранее хронологически маркированные, и по этой причине входившие в пассивный словарь носителей языка, перестают ощущаться как принадлежащие к более ранней эпохе и входят в активный словарный запас большого числа людей. В статье рассматриваются лексические единицы, которые в словарях советского периода были отмечены как архаичные (и / или содержали в своем лексикографическом толковании такие периферийные компоненты, как «в царской России», «в России до 1917 года»), и которые эту особенность в современных словарях. Анализируются новые парадигматические и синтагматические связи рассматриваемых лексических единиц, развитие их полисемии, их новые производные и, в некоторых случаях, их графическая и грамматическая адаптация.
Fichier principal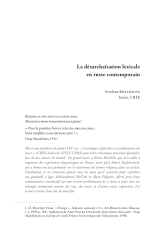 Slovo52_08_Svetlana_Kryolosova.pdf (482.79 Ko)
Télécharger le fichier
Origin : Explicit agreement for this submission